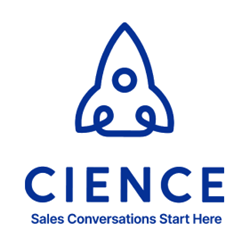 "We pride ourselves on providing a positive and uplifting experience for everyone at CIENCE, and while the past year has forced us to adapt a remote working environment, we are delighted to hear that our employees are among the happiest in the United States." —Cindy Sanborn, Head of Human Resources
DENVER (PRWEB) October 05, 2021
CIENCE, the global leader in lead generation, offering a unique blend of managed services and software to scale fast-growth sales organizations, is pleased to announce they are the recipient of the 2021 "Happiest Employees" award by Comparably.
"We are extremely proud to have received this award because after a tough and tumultuous year with COVID-19 and remote work, it proves that our flexibility, creativity, and continued focus on personal and professional development is paying off," said Michele Crocker, COO at CIENCE.
Comparably awards are compiled from over 10 million anonymous employee ratings across 60,000 U.S. companies over a 12 month period. CIENCE placed #34 out of 50 large companies named in the survey. The Happiest Employees category is based on responses to questions that seek to understand the factors which contribute to an employee's overall happiness at work.
"It is truly an honor to work for an organization that continues to be recognized by its employees as a great place to work, said Cindy Sanborn, U.S. Head of Human Resources at CIENCE. "We pride ourselves on providing a positive and uplifting experience for everyone at CIENCE, and while the past year has forced us to adapt a remote working environment, we are delighted to hear that our employees are among the happiest in the United States."
CIENCE is always looking to hire great talent and is currently actively recruiting a variety of exciting roles. To learn more about the open opportunities, please visit the CIENCE Careers page.
About Comparably
Comparably is a leading workplace culture and compensation monitoring site that provides the most comprehensive and accurate representation of what it's like to work for a specific organization. Employees can anonymously rate their employers in 20 workplace culture categories, providing the public a transparent and in-depth look at the experiences different segments of workers have based on gender, ethnicity, age, department, tenure, location, education, and company size. Since launching in 2016, Comparably has accumulated 10 million ratings on 60,000 U.S. companies. The platform has become one of the fastest-growing SaaS solutions for employer branding and a trusted third-party site for workplace and salary data, most notably for its annual Best Places to Work series.
About CIENCE
CIENCE is a People-as-a-Service company, offering a unique blend of managed services and software to scale fast-growth sales organizations. Through highly targeted bespoke sales research and multi-channel orchestrated outbound campaigns, CIENCE delivers scalable results for over 1,500 companies across more than 195 B2B industries.
CIENCE is a global organization, with headquarters in Denver, CO (USA) and offices in San Diego, CA (USA), San Francisco, CA (USA), Lexington, KY (USA), Kyiv, Ukraine (Europe), Manila, Philippines (Asia), and Guadalajara, Mexico (Americas). Connect with us online at cience.com or on LinkedIn, Twitter, or Facebook.