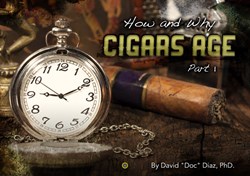 The best way to decide if a cigar is aging beneficially is to smoke many cigars from the same batch over a period of time.
Easton, PA (PRWEB) August 21, 2013
The all-new Cigar Advisor is an online cigar magazine that brings a fresh, irreverent, and down-to-earth perspective on all things cigars to thousands of smokers. In addition to educational cigar content and behind-the-scenes cigar industry articles from some of the business's top names, Cigar Advisor delivers an array of content about a variety of topics of interest to people who enjoy the cigar lifestyle. The magazine also features cigar reviews and ratings submitted by real smokers. Cigar Advisor has just published a the first part of a new, two-part article discussing the benefits of aging cigars, and how to do it.
"The benefits of aging cigars will vary from cigar to cigar and may range from considerable to negligible." - David "Doc" Diaz
The subject of aging cigars has consistently elicited a wide range of opinions; not only among rank and file cigar smokers, but also among those who have spent many years collecting and aging cigars.
In his Cigar Advisor article on aging, contributor David "Doc" Diaz writes: "There is no universal 'ideal' time period for home aging as far as getting the best results. The best way to decide if a cigar is aging beneficially is to smoke many cigars from the same batch over a period of time." Using that method, Diaz advises, smokers can check their progress and determine whether to smoke them more quickly because their body and strength is tailing off, or whether to relax and smoke them at your leisure because they are aging slowly and gracefully.
Doc also points out that "if you think you've never smoked an aged premium cigar, you're wrong. On average, the tobaccos in your cigar have likely been baled and aged for two to three years before rolling, and typically spend another three months or more in aging rooms, prior to shipping." Yet, he says, many cigar smokers prefer to continue aging their cigars at home.
Aging cigars takes a major commitment of time, money, and patience—a concept, Diaz notes, that is lost on many cigar smokers. Many people buy cigars in samplers of five to 10 cigars, so they can smoke one or two over an indefinite time span and typically run out of those cigars before they have significant age.
About Cigar Advisor Magazine
Cigar Advisor magazine is a digital publication created for real cigar enthusiasts who love tobacco and live the lifestyle. Cigar smokers are passionate about almost everything they do - whether it's the drinks they savor, the food they devour, the cars and motorcycles they dream of, the sports they're fanatical about or the women they love, Cigar Advisor shares those passions with a razor-sharp edge, soaking up each day and experience as if it were our last. Find that passion and more on display at CigarAdvisor.com.