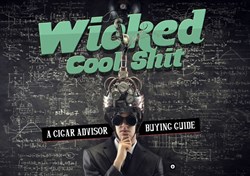 Easton, PA (PRWEB) January 28, 2014
The all-new Cigar Advisor is an online cigar magazine that brings a fresh, irreverent, and down-to-earth perspective on all things cigars to thousands of smokers. In addition to educational cigar content and behind-the-scenes cigar industry articles from some of the business's top names, Cigar Advisor delivers an array of content about a variety of topics of interest to people who enjoy the cigar lifestyle. The magazine also features cigar reviews and ratings submitted by real smokers, and much more. Cigar Advisor Magazine has published its monthly feature article entitled "Wicked Cool Shit," a list of 10 items any person should have for a man cave or just because it's wicked cool.
Each item on the list is hand-selected by the Cigar Advisor staff as either a cool gadget, dream car, or a generally cool item that someone would like to own. Some examples on this list include the Waterproof Pool Table, a pool table that can be placed in your pool for outdoor fun in the sun, Pat's Backcountry Beverages: Beer Concentration Packs, a dehydrated beer system for easily portable beer, and ZALCreations Lighting, a lighting option made from glass bottles and beer cans which reads, "The man cave is essential. Not for anything in particular- it just IS, just like the Bat Cave is essential. A private hideaway for all the gadgets and "stuff" that makes us men, and manly men at that. But as caves (man caves included) generally scream "darkness," there is a need for a keen designer touch to bringing in some light - and that's where ZALcreations comes in. They provide lighting options handmade from your choice of booze bottles, to shed some wattage on the walls of your little hideaway."
Other items on the list include the Jetlev Aquaflyer, DTV Shredder, Xistera 8 for iPhone, Fish Tank Coffee Table, Full Swing Golf, the Kholer Moxie Showerhead, and The Football, an all-in-one party and after-party pack that includes bottles of Grey Goose, Red Bull, Aspirin, and a lot more. These ten items are must haves for any person looking to improve their life with luxury items that exude awesome.
About Cigar Advisor Magazine
Cigar Advisor magazine is a digital publication created for real cigar enthusiasts who love tobacco and live the lifestyle. Cigar smokers are passionate about almost everything they do - whether it's the drinks they savor, the food they devour, the cars and motorcycles they dream of, the sports they're fanatical about or the women they love, Cigar Advisor shares those passions with a razor-sharp edge, soaking up each day and experience as if it were our last. Find that passion and more on display at CigarAdvisor.com.