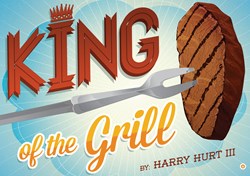 This isn't rocket science, gentlemen. Let type of meat, thickness, and lightness of touch be your guides: the softer the rarer, the stiffer the more well done.
Easton, PA (PRWEB) August 23, 2013
The all-new Cigar Advisor is an online cigar magazine that brings a fresh, irreverent, and down-to-earth perspective on all things cigars to thousands of smokers. In addition to educational cigar content and behind-the-scenes cigar industry articles from some of the business's top names, Cigar Advisor delivers an array of content about a variety of topics of interest to people who enjoy the cigar lifestyle. The magazine also features cigar reviews and ratings submitted by real smokers. Cigar Advisor has just published "King of the Grill," a quick compendium of grilling tips and techniques from a BBQ aficionado.
Harry Hurt III, Cigar Advisor contributor and professed BBQ fanatic, points out that America's true national pastime isn't baseball --- it's barbecuing. "If you don't believe me," he says, "just look at the stats. According to a survey by the Hearth, Patio & Barbecue Association, over 60 million U.S. citizens fired up their grills this past Fourth of July weekend. By comparison, the National Sporting Goods Association estimates that only 11.9 million people, most of them youths, play baseball every year."
From beginning to end, Hurt has advice for getting the most out of your grilling experience, discussing proper grill care, cleaning and food prep – all important steps to take, he says, "before you even bring the flame into the equation." From there, Hurt discusses the ideal method for the use of charcoal – telling readers to "fire up your grill like an Egyptian." That is, according to Harry, stack the charcoals in a pyramid, squirt on charcoal lighter fluid, allow at least 45 minutes for them to heat to a grayish red glow, and then spread them evenly across the pit.
On the subject of dry and wet rubs, Harry has some advice on when to use them to their fullest potential – but argues that what really matters is how to know when steak, chicken ribs, fish and vegetables are done on the grill. "This isn't rocket science, gentlemen. Let type of meat, thickness, and lightness of touch be your guides: the softer the rarer, the stiffer the more well done."
As a final word of advice, Hurt offers this: "give it a rest -this applies mainly to steaks, but also to you. Let your red meats rest for at least five minutes after you take them off the grill; this allows the juices to flow and deliver the best flavor. It also allows time for you to pause and reflect on the type of cigar you want to smoke to finish off the perfect meal."
About Cigar Advisor Magazine
Cigar Advisor magazine is a digital publication created for real cigar enthusiasts who love tobacco and live the lifestyle. Cigar smokers are passionate about almost everything they do - whether it's the drinks they savor, the food they devour, the cars and motorcycles they dream of, the sports they're fanatical about or the women they love, Cigar Advisor shares those passions with a razor-sharp edge, soaking up each day and experience as if it were our last. Find that passion and more on display at CigarAdvisor.com.