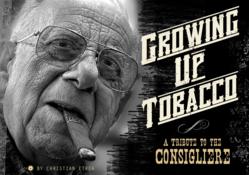 He was the quintessential dirty old man...but everyone loved him for it. I think about him every time I smoke a cigar, every single time.
Easton, PA (PRWEB) July 01, 2013
The all-new Cigar Advisor is an online cigar magazine that brings a fresh, irreverent, and down-to-earth perspective on all things cigars to thousands of smokers. In addition to educational cigar content and behind-the-scenes cigar industry articles from some of the business's top names, Cigar Advisor delivers an array of content about a variety of topics of interest to people who enjoy the cigar lifestyle. The magazine also features cigar reviews and ratings submitted by real smokers. Cigar Advisor has just published their July issue, featuring well-known cigar manufacturer and regular contributor, Christian Eiroa on the cover. Christian's piece, entitled "A Tribute to the Consigliere," is published as part of Eiroa's ongoing series, "Growing Up Tobacco," which comprises stories from Christian's unique perspective growing up in the cigar and tobacco business.
In "A Tribute to the Consigliere," Christian offers a heartfelt tribute to the late Sal Fontana, who spent 62 colorful years in the cigar business, and developed the hugely popular "Baccarat: The Game" line of cigars, as well as the La Fontana brand.
Christian explains the genesis of his friendship with Sal, how they came to work together, and how Sal went on to become his mentor and best friend, all while telling some of Sal's most memorable stories. "Sal kept going on strong until he passed at the age of 86 in early 2011," Christian writes, though he "still had to go out with a bang, though. He called all his big customers and said, 'This is my last order, I am kicking the bucket tomorrow so you better make it a good one.'"
"Sal was a one-of-a-kind guy, with a quick wit and a sharp, NYC-style sense of humor," Eiroa said of Sal. "He was the quintessential dirty old man...but everyone loved him for it. I think about him every time I smoke a cigar, every single time."
The new July Cigar Advisor also includes a detailed tutorial from the magazine's editors on how to cut cigars; a primer on wetshaving; a list of "Cigar Bar Do's and Don'ts and a discussion on small-batch cigars. Additional articles will be released throughout the month of July.
About Cigar Advisor Magazine
Cigar Advisor magazine is a digital publication created for real cigar enthusiasts who love tobacco and live the lifestyle. Cigar smokers are passionate about almost everything they do - whether it's the drinks they savor, the food they devour, the cars and motorcycles they dream of, the sports they're fanatical about or the women they love, Cigar Advisor shares those passions with a razor-sharp edge, soaking up each day and experience as if it were our last. Find that passion and more on display at CigarAdvisor.com.