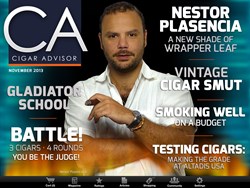 On the cover of the November issue of Cigar Advisor is Nestor Plasencia, one of the biggest manufacturer in the cigar industry today.
Easton, PA (PRWEB) November 04, 2013
The all-new Cigar Advisor is an online cigar magazine that brings a fresh, irreverent, and down-to-earth perspective on all things cigars to thousands of smokers. In addition to educational cigar content and behind-the-scenes cigar industry articles from some of the business's top names, Cigar Advisor delivers an array of content about a variety of topics of interest to people who enjoy the cigar lifestyle. The magazine also features cigar reviews and ratings submitted by real smokers. Cigar Advisor has just released its November issue and it's full of informational and entertaining pieces for cigar smokers to enjoy.
On the cover of the November issue of Cigar Advisor is Nestor Plasencia, one of the biggest manufacturers in the cigar industry today. Nestor Plasencia has submitted an article on a new type of wrapper he successfully crafted in Esteli, Nicaragua – a shade-grown Habano wrapper. Nestor writes, "Shade-grown tobacco is "the most labor-intensive" tobacco to grow. Just putting up the cheesecloth tapado, or tent, that will cover an entire field is an arduous undertaking in itself."
The new issue will also include a list of SUVs that are must haves during the winter months, how to open up your own distillery, and even the process premium manufacturers use to produce and properly test different blends in order to make new cigars. There is also an article describing the charity Operation: Cigars for Warriors – a charity dedicated to sending cigars over to deployed soldiers.
People interested learning more about Cigar Advisor Magazine should visit CigarAdvisor.com
About Cigar Advisor Magazine
Cigar Advisor magazine is a digital publication created for real cigar enthusiasts who love tobacco and live the lifestyle. Cigar smokers are passionate about almost everything they do - whether it's the drinks they savor, the food they devour, the cars and motorcycles they dream of, the sports they're fanatical about or the women they love, Cigar Advisor shares those passions with a razor-sharp edge, soaking up each day and experience as if it were our last. Find that passion and more on display at CigarAdvisor.com.