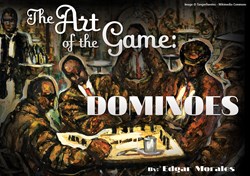 Have a beer, play the game. It's a release from all the struggle and sacrifice.
Easton, PA (PRWEB) August 31, 2013
The all-new Cigar Advisor Magazine is an online cigar magazine that brings a fresh, irreverent, and down-to-earth perspective on all things cigars to thousands of smokers. In addition to educational cigar content and behind-the-scenes cigar industry articles from some of the business's top names, Cigar Advisor delivers an array of content about a variety of topics of interest to people who enjoy the cigar lifestyle. The magazine also features cigar reviews and ratings submitted by real smokers. Cigar Advisor has just published "The Art of the Game," detailing the basics on how to play dominoes and the cultural influences behind it.
Cigar Advisor contributor Edgar Morales has written "The Art of the Game," detailing the basics on how to play dominoes. He also explores the game's cultural influence, and how it's become a part of everyday life for people in the Caribbean and Latin America.
Morales, a longtime player, explains the basic method of playing dominoes: "Dominoes is a simple game (it's matching numbers, after all), but also a serious game when you're playing at a higher level. You don't need to be a rocket scientist to play…but there is some math." He explores the rules, playing with partners, scoring and strategy, in an effort to teach others to play. Detailing the bonuses within the first four rounds, Edgar also notes the additional points earned for capicú and chuchazo – and how those bonus points can lead to a player's advantage early. "Let me run the numbers for you," Ed says. "Win the first game of the match with a double zero, and you're halfway home to 500 just through bonus points."
Morales points to dominoes as a strong presence in Latino culture. According to Ed, "In the Caribbean Islands and Latin America it's part of daily life. After work you go to your local watering hole, have a couple of beers or some rum, smoke a good cigar to unwind from your day, and partake with some friends in a couple of games of dominoes." He notes that the game is a pleasant diversion from everyday life. "Many people with roots in the Caribbean have a personal history of struggle." He notes his personal experience, having the game around while growing up in the Bronx, as well as that of his extended family: "My father-in-law had 2 jobs, 7 kids and just a generally hard life. His wife was home taking care of the family, working out of the house to make a few extra bucks." So dominoes, in Ed's experience, is a needed outlet – "have a beer, play the game. It's a release from all the struggle and sacrifice."
About Cigar Advisor Magazine
Cigar Advisor magazine is a digital publication created for real cigar enthusiasts who love tobacco and live the lifestyle. Cigar smokers are passionate about almost everything they do - whether it's the drinks they savor, the food they devour, the cars and motorcycles they dream of, the sports they're fanatical about or the women they love, Cigar Advisor shares those passions with a razor-sharp edge, soaking up each day and experience as if it were our last. Find that passion and more on display at CigarAdvisor.com.