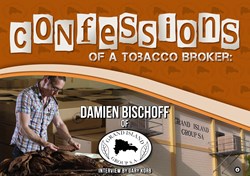 Not every cigar factory grows its own tobacco. Oftentimes, all or some of the tobacco is purchased through a third party broker, like Mr. Bischoff's company.
Easton, PA (PRWEB) August 27, 2013
The all-new Cigar Advisor Magazine is an online cigar magazine that brings a fresh, irreverent, and down-to-earth perspective on all things cigars to thousands of smokers. In addition to educational cigar content and behind-the-scenes cigar industry articles from some of the business's top names, Cigar Advisor delivers an array of content about a variety of topics of interest to people who enjoy the cigar lifestyle. The magazine also features cigar reviews and ratings submitted by real smokers. Cigar Advisor has just published an interview with Damien Bischoff, detailing the job responsibilities and life of a tobacco broker.
Cigar Advisor Executive Editor Gary Korb was asked recently, "What does a tobacco broker do?" While he felt he could give an educated answer, he decided instead to get the answer straight from someone in that line of work – so he interviewed Damien Bischoff of Grand Island Group S.A. in the Dominican Republic to learn more about the role of the tobacco broker in the making of premium handmade cigars. "It all started when someone wrote to me and asked, 'Have you ever thought about the tobacco used in your favorite cigars?'" says Korb.
Gary got in depth on the topic with Bischoff. "For instance, what type of tobaccos were used? Where were they grown? Are they vintage, or rare? Cigar smokers who've taken a serious interest in the pastime want to know these things, and Damien is the guy to ask." Noting that while many cigar enthusiasts usually know the blend of the cigars they smoke, either by having read the blend info in a cigar catalog, website, or from personal experience, Korb says, "there are probably a lot of cigar smokers who don't care, as long as the cigar tastes good. But it may get them wondering."
In this interview, readers will learn about the role of the tobacco broker. What's interesting, Gary points out, is that not every cigar factory grows its own tobacco. "Oftentimes, all or some of the tobacco is purchased through a third party broker like Mr. Bischoff's company, Grand Island Group S.A. A broker's reputation is only as good as his tobacco, and since Mr. Bischoff set up shop in The Dominican Republic, he has been supplying some of the finest tobacco to a number of major factories," says Bischoff: "I want to provide tobacco to the customer who will get the best use from it. You can make the best cigar in the world, in your opinion, and no one will buy it if you don't look at what your customers are looking for."
Readers can see more of Korb's interview in this month's issue of Cigar Advisor Magazine.
About Cigar Advisor Magazine
Cigar Advisor magazine is a digital publication created for real cigar enthusiasts who love tobacco and live the lifestyle. Cigar smokers are passionate about almost everything they do - whether it's the drinks they savor, the food they devour, the cars and motorcycles they dream of, the sports they're fanatical about or the women they love, Cigar Advisor shares those passions with a razor-sharp edge, soaking up each day and experience as if it were our last. Find that passion and more on display at CigarAdvisor.com.