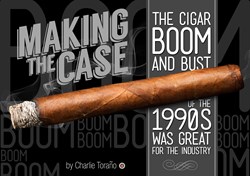 The fascinating thing about operating in a business boom cycle is that you are constantly kidding yourself about how long it will last.
Easton, PA (PRWEB) September 01, 2013
The all-new Cigar Advisor Magazine is an online cigar magazine that brings a fresh, irreverent, and down-to-earth perspective on all things cigars to thousands of smokers. In addition to educational cigar content and behind-the-scenes cigar industry articles from some of the business's top names, Cigar Advisor delivers an array of content about a variety of topics of interest to people who enjoy the cigar lifestyle. The magazine also features cigar reviews and ratings submitted by real smokers. The September 2013 issue of Cigar Advisor has just been published, featuring Charlie Toraño – President of the Toraño Family of Cigars – on the cover.
Cigar Advisor Magazine's cover story, "Making the Case," was penned by the noted cigar manufacturer, attorney, and Cigar Advisor contributor. Entitled "Making the Case: The Cigar Boom and Bust of the 1990s Was Great for the Industry," Toraño argues that the cycle the cigar business underwent was crucial in establishing a real, lasting cigar market that would flourish into the 21st century.
Toraño begins by describing his growing up during the 1970s and 80s, what he called "the very lean years of the business." At one point, his father admonished him to go out, get an education, and do something other than cigars.
Then, almost overnight in the 1990s, the cigar industry exploded. Demand outpaced supply, seemingly by several orders of magnitude. Toraño observes, "The fascinating thing about operating in a business boom cycle is that you are constantly kidding yourself about how long it will last."
Of course, after several years, the boom went bust, leaving manufacturers uncertain about their futures. Toraño argues that this was actually a good thing.
"Today, thanks to the renaissance of cigars that started in the early 1990s, we have a vibrant industry that continues to grow and evolve. There is a real culture of men and women who enjoy those special moments that can only be experienced while smoking a premium cigar," Toraño writes.
Also included in the September issue, and released today, is a second installment on home aging cigars; a look at cigars in the movies and "fun with the yard gar." Other pieces due throughout the month will discuss female cigar smokers, a Fall beer guide, tobacco farming and Ernest Hemingway, in addition to the magazine's buying guide and monthly "Battle!" cigar ratings feature.
About Cigar Advisor Magazine
Cigar Advisor magazine is a digital publication created for real cigar enthusiasts who love tobacco and live the lifestyle. Cigar smokers are passionate about almost everything they do - whether it's the drinks they savor, the food they devour, the cars and motorcycles they dream of, the sports they're fanatical about or the women they love, Cigar Advisor shares those passions with a razor-sharp edge, soaking up each day and experience as if it were our last. Find that passion and more on display at CigarAdvisor.com.