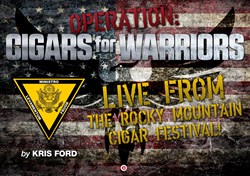 I had the pleasure of meeting and speaking with countless shop owners and managers who were interested in setting up Operation Cigars for Warriors donation boxes at their locations.
(PRWEB) November 29, 2013
The all-new Cigar Advisor Magazine is an online cigar magazine that brings a fresh, irreverent, and down-to-earth perspective on all things cigars to thousands of smokers. In addition to educational cigar content and behind-the-scenes cigar industry articles from some of the business's top names, Cigar Advisor delivers an array of content about a variety of topics of interest to people who enjoy the cigar lifestyle. The magazine also features cigar reviews and ratings submitted by real smokers. Cigar Advisor Magazine has just published a new article, by Kris Ford, an Events Coordinator for Operation Cigars for Warriors in Colorado, giving inside look at the charity that donates thousands of cigars annually to men and women stationed overseas fighting for the United States.
In the article, Kris relives his experience from a recent event held at Rocky Mountain Cigar Fest in Boulder, Colorado, one of the biggest cigar events out west. Kris writes "Storm and I had the pleasure of meeting and speaking with countless shop owners and managers who were interested in setting up CFW donation boxes at their locations. As it stands, we had almost 50 new shops interested in opening their doors to a donation box - not too shabby compared to the IPCPR. But we had something bigger on our minds – as everyone was excited for Saturday to come, and the opening of the gates to the 4th Annual Rocky Mountain Cigar Fest!"
Many vendors were on hand at the event this year such as Pete Johnson, Eddie Ortega, Tony Gomez, and a lot more. At the end of the event, they had raised over $2,100 to help ship cigars overseas and almost 300 cigars to go to the troops. To read more about his experience and the Rocky Mountain Cigar Festival, visit CigarAdvisor.com.
About Cigar Advisor Magazine
Cigar Advisor magazine is a digital publication created for real cigar enthusiasts who love tobacco and live the lifestyle. Cigar smokers are passionate about almost everything they do - whether it's the drinks they savor, the food they devour, the cars and motorcycles they dream of, the sports they're fanatical about or the women they love, Cigar Advisor shares those passions with a razor-sharp edge, soaking up each day and experience as if it were our last. Find that passion and more on display at CigarAdvisor.com.