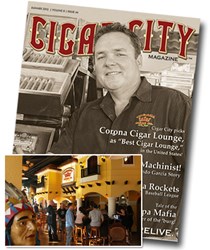 "Corona Cigar Co...simply has the best selection of cigars and provide the ultimate cigar smoking experience."
Orlando, FL (PRWEB) August 15, 2013
Corona Cigar Co., based in Orlado, FL, is proud to announce that it has recently been named: "Best Cigar Lounge in the U.S" by Cigar City Magazine. This marks the second award Corona Cigar Co. has received in the past month. Corona Cigar Co.'s owner Jeff Borysiewicz received the 2013 European Cigar Journal Ambassador Award this past July in Las Vegas at the annual IPCPR convention. This recognition was for his tireless work as an advocate for cigar smokers and his work on legislation that would stop regulation on tobacco.
With this latest distinction coming from Cigar City Magazine, Jeff Borysiewicz states, "We feel truly honored to be recognized as 'Best Cigar Lounge in the U.S.'. It's a true testament to all the hard work our dedicated team of employees demonstrate every day. We are so grateful to Cigar City Magazine and their staff for this great honor."
When asked why they chose Corona Cigar Co. out of the thousands of cigar bars and retailers spread across the U.S, Lisa Figueredo, publisher of Cigar City Magazine states, "In searching cigar shops across America, Corona Cigar Co. is just simply head and shoulders above any cigar shop we could find. They simply have the best selection of cigars and provide the ultimate cigar smoking experience."
With three retail locations, including downtown Orlando, South West Orlando, and Lake Mary-Heathrow, Corona Cigar Co. boasts a cigar stock of over two million cigars. The cigar shops also have a combined square footage of over 18,000 square feet of smoking space that includes a world famous Diamond Crown cigar bar. In addition, they also have a large online retail website featuring the many cigar brands available at retail locations.
Corona Cigar Co. is an industry leader in retail cigars and cigar accessories and is currently headquartered in Orlando, Florida. Committed to quality and excellence, they have grown to become the default destination for cigar enthusiasts seeking the "Ultimate Cigar Experience." Also, they are one of the largest online cigar and cigar accessory retailers in the world.
For more information visit: http://www.coronacigar.com or follow us on Facebook and on Twitter.