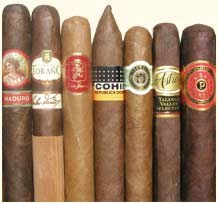 We're really excited about this cigar. It has just enough Nicaraguan ligero to give it a slight punch...
Lake Forest, CA (PRWEB) December 20, 2013
This month The Premium Cigar of the Month Club is very excited to bring our members a smoke you won't find anywhere else. The Nicaraguan produced Man O' War Virtue Limited Edition Sixty's name is a bit misleading as it's a milder version of the full-flavored blends typically associated with the Man O' War family of cigars. The brand was developed by Abdel "AJ" Fernandez, a protégé of Don Alejandro Robaina. Robaina's reputation in the industry earned him the moniker of "The Godfather of Tobacco!"
Fernandez spent the vast majority of his life studying under Don Alejandro in Cuba before moving to Nicaragua to develop his own cigar lines. In just seven years, he created highly rated and well respected cigars such as Indian Tabac 10th Anniversary, Rocky Patel's Fusion, and Sol Cubano Cuban Cabinet.
Founder Kris Calef comments, "We're really excited about this cigar. It has just enough Nicaraguan ligero to give it a slight punch, but A.J. used Nicaraguan seco and viso tobaccos for both the filler and binder which makes it a bit more approachable then the brand's traditionally more heavy-bodied big brothers. Our members tend to prefer larger ring gauges so we had A.J. make it a fat boy coming in at a whopping 60 ring gauge. He wrapped it with an Ecuadorian grown Connecticut leaf and the end result is a medium-bodied, creamy, smooth smoke from start to finish. We're expecting a huge response from this one."
Each shipment from the club comes with a newsletter detailing where each cigar originated, the tobaccos used to craft them, what to look for when enjoying them as well as what alcohols pair best with each cigar. Gift memberships can sent from 2-12 months and shipped in any frequency, even on specific months to celebrate specific occasions throughout the year.
For more information, please visit http://www.cigarmonthclub.com or call 800-625-8238.
About The Premium Cigar of the Month Club™
The Premium Cigar of the Month Club™ has been a family-owned and run business for nearly 20 years now, managed today on the same core principles that it was founded on in 1994. A strong dedication to consistently delivering quality, variety, and outstanding values has earned it an A+ rating with The Better Business Bureau . We're extremely proud of the fact that 98% of our surveyed customers highly recommend us.