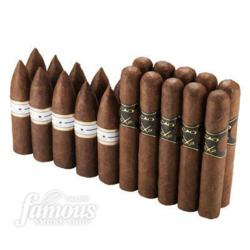 We are very pleased to be able to provide this combination of variety and value to smokers.
expert customer service, competitive pricing, and a wide variety of special offers and ways to buy cigars. As a customer-
Famous Smoke Shop is the nation's #1 discount retailer of cigars online, providing smokers with the web's best cigar selection, oriented company, Famous Smoke Shop frequently sends sales, cigar discounts, and coupons via e-mail, Facebook, Twitter, printed catalogs and other channels to their customer base.
A little over two years ago, Famous Smoke Shop introduced their Wingman Samplers, a variety of sampler items that combined two popular and similarly-styled cigar brands into one 10-cigar sampler pack that offered customers significant savings. The packs have proven to be quite popular, and to satisfy customer demand, the company has just released an upgraded version known as the Ultimate Wingman Samplers. These packs follow the same format of featuring two brands, but the new versions include 10 of each to create a 20 cigar sampler pack.
Famous Smoke Shop has begun their Ultimate Wingman Sampler promotion by creating 20 new cigar sampler packs for their customers to choose from. The packs featuring prominent cigar brands such as Macanudo, Perdomo, Rocky Patel, Oliva, Alec Bradley Tempus, Romeo y Julieta, Partagas, and many more. The packs offer savings as large as 56-percent off the regular MSRP value.
"We expect the new Ultimate Wingman Samplers to be just as popular if not more so than our original Wingman Samplers," said Famous Smoke Shop VP of Operations Michael Vandenstockt. "These packs provide our customers with a wonderful opportunity to try out some of the best cigars on the market today and get a great value at the same time. Avid cigar enthusiasts typically don't stick to one brand of cigars; they enjoy multiple brands and styles based on their mood. We are very pleased to be able to provide this combination of variety and value to smokers."
These new cigar sampler packs are currently available on Famous Smoke Shop's website. The company is also promoting them via their e-mail specials program. To learn more about Famous Smoke Shop and their new Ultimate Wingman Samplers, please visit Famous-Smoke.com or call 800-564-2486.
About Famous Smoke Shop
Famous Smoke Shop is the nation's #1 discount retailer of premium cigars online, offering one of the largest selections of handmade cigars, machine-made cigars, cigar humidors and accessories. Famous offers the web's lowest prices on a wide selection of cigar brands including Acid, Davidoff, Macanudo, Romeo y Julieta, Ashton, Padron, Oliva and Perdomo cigars, and many more. Famous also offers a complimentary monthly catalog and has been awarded an Elite ranking for their customer service by third-party benchmarking firm STELLAService. The Elite rating is the company's highest rank, and is achieved by only four percent of rated online merchants.