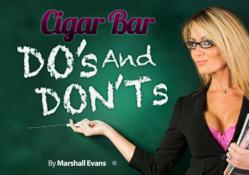 Of course, etiquette is imperative, but we're not all a bunch of snobs who are going to dock you points for every infraction.
Easton, PA (PRWEB) July 03, 2013
The all-new Cigar Advisor is an online cigar magazine that brings a fresh, irreverent, and down-to-earth perspective on all things cigars to thousands of smokers. In addition to educational cigar content and behind-the-scenes cigar industry articles from some of the business's top names, Cigar Advisor delivers an array of content about a variety of topics of interest to people who enjoy the cigar lifestyle. The magazine also features cigar ratings and reviews submitted by real smokers. Cigar Advisor has just published a new article in their July issue regarding cigar bar etiquette, titled "Cigar Bar Do's & Don'ts."
Marshall Evans, Cigar Advisor contributor, notes that there are sacred few places left to fellowship with friends over a great cigar. But there is the cigar bar, "a magical place where you can hang out, have a drink and a smoke, all while avoiding the judgmental scowls of non-smokers." Evans hopes you are lucky enough to have one in your town.
He also notes that while the cigar bar may be a "laid-back bastion of freedom" – there is still a level of etiquette and decorum to be observed when spending some time in one; he also lists a series of what he calls "ground rules," in an effort to teach those new to the experience how to "keep yourself in the good graces of both the proprietors and regulars."
Marshall tackles the unwritten rules on bringing friends, especially those who might not be smokers. And though cigar smoking is considered a social indulgence, he warns against the urge to jump into a conversation with strangers just because you all happen to be smoking. He also advises on the actual cigar, answering the question, "do you bring your own or purchase in house?"
While it may seem there's an unwritten "code" among cigar bar patrons, Marshall notes that it's not much different than any social establishment: "Of course, etiquette is imperative, but we're not all a bunch of snobs who are going to dock you points for every infraction. A little effort on your part goes a long way, and makes you a part of the club."
About Cigar Advisor Magazine
Cigar Advisor magazine is a digital publication created for real cigar enthusiasts who love tobacco and live the lifestyle. Cigar smokers are passionate about almost everything they do - whether it's the drinks they savor, the food they devour, the cars and motorcycles they dream of, the sports they're fanatical about or the women they love, Cigar Advisor shares those passions with a razor-sharp edge, soaking up each day and experience as if it were our last. Find that passion and more on display at CigarAdvisor.com.