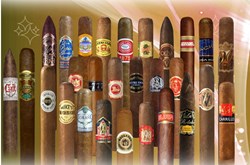 This year's event promises to be even bigger and better. At our last event, we were inspired by the turn out and the energy and enthusiasm, so we want to turn it up even more this time.
MIAMI, FL (PRWEB) August 16, 2013
Miami is an international hotspot because of its warm weather, scenic sights, NBA Champion Miami Heat, Art Basel, and also is the cigar capital of the country, so it only makes sense to host a cigar block party extravaganza in Miami in December. Mike's Cigars, distributor and worldwide internet superstore http://www.mikescigars.com, has been a trailblazer in the industry for over 60 years. Adding to their already red hot cigar repertoire, Mike's Cigars will once again host the biggest cigar block party in the world. The South Florida Cigar Extravaganza's main event at Mike's Cigars on Saturday December 14, 2013, will create a weekend for cigar enthusiasts to unite, ignite and bring the heat to Miami.
The last Cigar Extravaganza event brought cigar lovers together from around the country, cigar celebrities, over 50 cigar vendors, Miami's cigar elite, VIPs, and cigar experts like Gary Manelski of About.com, who covered the event, to mingle over new cigars as well as the classics while getting their smoke on in South Florida style.
This year's Extravanganza is being organized to be even bigger and better. Cigars are an artform with its own culture which will be celebrated in the spirit of Art Basel Miami also in December. The weekend will be loaded with special cigar events, starting with The VIP Pre-event Signature Cigar Dinner on Friday night hosted by one of our sponsors. Continuing straight into the main event the next day and culminating with a great party, amazing prize raffles and more.
Join fellow cigar fans for the main event in a festive atmosphere representative of the South Florida lifestyle with good food, premium spirits, fine cigars and cigar camaraderie on Saturday December 14th from 1-5pm at Miami's Mike's Cigars, 1030 Kane Concourse, Bay Harbor Islands, Florida, 33154. Once inside the tents, guests have access to sampling food and spirit stations, live music stage, big ticket item raffles, cigar giveaways, delicious dishes from Miami restaurants and a luncheon buffet followed by desserts, local liquor vendors and Cuban coffee station. Guests will enjoy a DJ and a live band, body paint models, massage chairs, and take a tour of all the cigar artisans in the Cigar Gallery giving away premium cigars from world famous cigar masters including Padron, Macanudo, Romeo y Julieta, My Father Flor De Las Antillas, Rocky Patel, Alec Bradley, Arturo Fuente, Drew Estate, Carlos Torano, Don Pepin, Oliva, Ashton and many more. VIPs will enjoy a private area with their own exclusive open bar and delicious dishes on buffet.
Get to know your favorite cigarmakers up close and personal and learn all about the art of cigar cultivation, creation and culture from industry insiders who all share the interest of enjoying a good cigar. Relax in leisure or dance to the DJ in between dining and cigars. At a $600 value, limited amount of tickets are on the Early Bird sale for just $140 each for just two weeks. In addition to receiving a souvenir pack with free cigars from every exhibiting company, attendees will receive cigar accessories in their swag bags. International food, drinks, entertainment and raffle prizes will be provided all day long. The event happens in the shade of the tents, smoking on site is welcome.
"The South Florida Cigar Extravaganza Weekend at Mike's Cigars is an opportunity for us to bring leading brands in the cigar industry to the cigar lovers in a South Florida setting," said Oded Ben-Arie, president of Mike's Cigars. "This year's event promises to be even bigger and better. At our last event, we were inspired by the turn out and the energy and enthusiasm, so we want to turn it up even more this time."
Companies participating in the event include: General Cigar, Altadis USA, Camacho, Alec Bradley, La Aurora Miami Cigar, Reyes Family, Rocky Patel, CAO, Torano, Oliva, Padilla, Fuente, Fonseca, Bahia Cigars, Cuba Aliados, Puros Indios, JC Newman, Licenciados, La Flor del Caney, 8-9-8 Collection, CLE Cigars, Drew Estate's Acid Cigars, My Father Cigars, Cult Cigars, Blue Mountain Cigars, Flor De Gonzalez, Felipe Gregorio, Quality Importers, Tabacalera Palma, D' Crossier Cigars, ECMI, Tedd's Made by Hand, Gurkha, and many more.
Portions of the proceeds from the South Florida Cigar Extravaganza will be donated to a charity to be announced, and Cigar Rights of America. Call 1.800.962.4427 for more information.
Mike's Cigars, established in 1950, is one of the biggest independent cigar mega-stores in the United States with retail and wholesale Internet websites since 1998 and mail-order catalog services since 1970, offering premium cigars from most of the cigar manufacturers worldwide. The company ships cigars, cigar samplers and cigar accessories to consumers all over the world, and carries over 1,000 different brands of premium cigars.