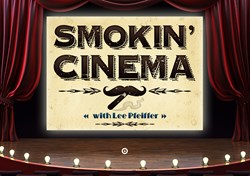 John Wayne's "tough guy" image as cattle rancher John Chisum is reinforced throughout the movie of the same name by his penchant for cigar smoking.
Easton, PA (PRWEB) September 19, 2013
The all-new Cigar Advisor Magazine is an online cigar magazine that brings a fresh, irreverent, and down-to-earth perspective on all things cigars to thousands of smokers. In addition to educational cigar content and behind-the-scenes cigar industry articles from some of the business's top names, Cigar Advisor delivers an array of content about a variety of topics of interest to people who enjoy the cigar lifestyle. The magazine also features cigar reviews and ratings submitted by real smokers. Cigar Advisor has just published "Smokin' Cinema," which explores the cinema's most memorable cigar-smoking characters.
Lee Pfeiffer, noted film historian and Cigar Advisor contributor, writes, "American movies have introduced us to some of our favorite heroes...well, at least some of our favorite fictional heroes. As a result, a number of actors have become synonymous with the larger-than-life characters they played on screen." Among them was John Wayne; and Lee believes it's hard to think of a Western without the image of "The Duke" popping up. "Wayne personified the American cowboy—rugged, masculine, somewhat flawed, and someone who played by his own rules." Pfeiffer focuses in on Wayne's role as the cigar-smoking John Chisum in the 1970 movie of the same name for his piece.
According to Lee, John Wayne's "tough guy" image as cattle rancher John Chisum is reinforced throughout the movie of the same name by his penchant for cigar smoking. "The year was 1970. John Wayne was riding tall in the saddle, both on and off the screen. "The Duke" had recently been awarded his only Oscar®, winning the prestigious statue for his performance in the 1969 version of True Grit. Wayne followed with Chisum, a dramatic Western loosely based on the Lincoln County War of 1878 in New Mexico.
Wayne plays the protagonist, John Chisum, a hard-nosed but benevolent cattleman who is rarely seen without a cigar in his mouth. Forrest Tucker plays the antagonist, Lawrence Murphy, a greedy land developer who's determined to take a big wad of Chisum's acreage at any cost. Murder and mayhem ensue as Chisum and Murphy battle it out." Lee also notes that cigar lovers will appreciate Chisum's fondness for cigars, including the film's opening shot, which depicts Chisum sitting on horseback as he quietly surveys his vast grazing lands.
Readers interested in learning more about John Wayne and his role in "Chisum" are encouraged to visit cigaradvisor.com to get the rest of Pfeiffer's article.
About Cigar Advisor Magazine
Cigar Advisor magazine is a digital publication created for real cigar enthusiasts who love tobacco and live the lifestyle. Cigar smokers are passionate about almost everything they do - whether it's the drinks they savor, the food they devour, the cars and motorcycles they dream of, the sports they're fanatical about or the women they love, Cigar Advisor shares those passions with a razor-sharp edge, soaking up each day and experience as if it were our last. Find that passion and more on display at CigarAdvisor.com.