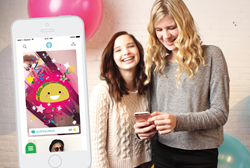 'The Cinderly App is like a runway tailored just for me. I constantly swipe right and save my favorite looks to my wish list.' - Elizabeth Claire Taylor, a fit-model for Melissa McCarthy's Seven7 jeans
New York, NY (PRWEB) July 13, 2016
Millions of us wake up each day, look into the closet, and face the "getting dressed dilemma." Cinderly is here to help. Cinderly uses data and technology to match everyday girls with users their same style and dress size, building a community of real role models to inspire new fashion choices.
Launching free in the App Store July 13, Cinderly has been touted by Media Post as one of the top startups to watch. The unique way Cinderly crowdsources personal style photos is grabbing media attention. Cinderly pulls data from the user's profile to create a customized newsfeed of fashionistas for a personalized and exclusive experience. This new "Fit For You" tool helps people discover which clothes and brands look best on their body. It's like a celebrity fashion stylist at one's fingertips.
Since the internet can be a nasty place, Cinderly has established their newsfeed as a troll-free zone, where everyone signs "The No Trolling Pledge." If someone trolls the Kingdom of Cinderly, they'll be banished far away from far, far away... And who wants to be banished from a Disney fairy's fashion boutique app dream?
"We are focused on building a safe environment to applaud others for being themselves and wanted to find a fun way to reinforce positivity," says Cinderly founder, Lucas Stoffel. "So, we built an amazing in-app GIF store where you can purchase emoji 'Superlikes!' But, Cinderly's 'Wand of Awesomeness' is absolutely free to everyone who wants to explore and show off their style."
Welcome to the Kingdom of Selfie Expression!
Download Cinderly and become the next fashion-forward fairy godmother.
Cinderly is in the news. Check out our "Media Reel."