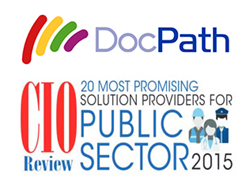 DocPath has been on our radar for some time for standing out in the public sector technology space, and we are thrilled to showcase them due to their ongoing excellence
Atlanta, GA (PRWEB) December 15, 2015
DocPath enters CIO Review's top Public Sector Solution Providers list for delivering comprehensive document software solutions that cover the entire cycle of documentation across a wide variety of channels in the Public Service domain.
DocPath, a leading provider of Document Output Management software, has entered the annual list of 20 Most Promising Public Sector Solution Providers 2015, which was published by CIO Review last November in its monthly special edition. The selection was based on DocPath's expertise in document software that enables public service users to have complete personalized access to documents across various channels at faster speeds and reduced costs efficiently and securely.
The companies entering the annual list of promising providers are selected by a panel of independent technology experts and members of CIO Review's editorial board to acknowledge and foster technological entrepreneurship. "DocPath has been on our radar for some time for standing out in the public sector technology space, and we are thrilled to showcase them due to their ongoing excellence in developing first-rate Document Output Management solutions," said Jeevan George, Managing Editor, CIO Review. "DocPath's document software continued to break new ground within the past year, benefiting its customers around the globe, and we're excited to have them featured on our top companies list."
DocPath is recognized for its high quality of Document Output Management solutions, wide-range features and its focus on developing document processing capabilities that meet today's as well as future requirements in document software. "We believe that document software will continue to evolve and that the use of Cloud-based solutions will expand dramatically, while in-house processes will still be the key to customers' need to protect the confidentiality of their information.
"At DocPath, we are working towards solutions that will meet these requirements, in order to offer customers around the world innovative and exceptional document software solutions," asserted Julio Olivares, DocPath CEO and Founder, in the published article.
The November 2015 edition of CIO Magazine's Public Sector Special is available here (see pages 14 and 18).
About CIO Review
CIO Review constantly endeavors to identify "The Best" in a variety of areas important to tech business. Through nominations and consultations with industry leaders, our editors choose the best in different domains. The Public Sector Special Edition is an annual listing of 20 Most Promising Public Sector Solution Providers in the U.S.
For more information: cioreview.com
About DocPath
DocPath is a leading document software manufacturer that provides its world-wide customers the technology that allows them to implement of sophisticated Customer Communications Management and Document Output Management systems. Created in 1992, DocPath solutions are found in companies all over the world. Its international clients include prestigious banks and first class corporations, which are aided by DocPath solutions by simplifying the complicated and critical task involving the design and distribution of business and customer documents. DocPath maintains a strong commitment to R&D&i, an area that receives a good amount of its revenue, and in which lies the key to the company's success.
For more information, visit: http://www.docpath.com