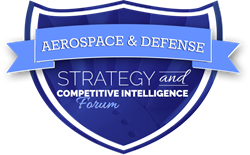 This year's distinguished speakers are leaders and experts in the Aerospace and Defense industry, providing a great opportunity to share their knowledge and help organizations to compete more effectively in today's evolving marketplace.
Annapolis, Maryland (PRWEB) August 27, 2015
Competitive intelligence technology and consulting firm Cipher Systems, together with the Strategic and Competitive Intelligence Professionals (SCIP), announced that it will host the Aerospace & Defense Strategy and Competitive Intelligence Forum in Washington, DC on Wednesday, October 14, 2015. This inaugural symposium is designed for industry leaders representing a wide variety of companies and regions, to discuss best practices, lessons learned, and the latest industry insights.
"In today's dynamic marketplace, leading Aerospace and Defense organizations must fully understand the competitive landscape – including driving trends, current position relative to competition, market dynamics and customer needs, and how these dynamics may change behavior and the landscape in the future," said Nan Bulger, SCIP Executive Director and CEO. "The Aerospace & Defense Strategy and Competitive Intelligence Forum is a focused day of presentations and discussions on key issues facing the aerospace and defense markets and industry in order to help organizations compete more effectively."
Topics to be addressed by subject matter experts and industry authorities include:

Integrated Intelligence for the Aerospace & Defense Sector
Strategy and Insights for Continued Growth
Price to Win – Improving Profitability
Position to Win – Putting CI in the Pilot Seat
Applying Competitive Intelligence in Local and Regional Government Sectors
Growth and Innovation for Global Market Expansion
"We are pleased to partner with SCIP on this program," said Beau Oliver, Cipher's Director of Business Development. "This event is a great opportunity for Strategy, Business Development, and Competitive Intelligence professionals to discuss the latest industry insights, best practices, and lessons learned while networking with other industry experts. This year's distinguished speakers are leaders and experts in the Aerospace and Defense industry, providing a great opportunity to share their knowledge and help organizations to compete more effectively in today's evolving marketplace."
The one-day forum will be held at The National Press Club on 14 October, 2015 from 8:00am to 6:30pm. To register, visit: http://www.cipher-sys.com/forum
About SCIP
Established in 1986, SCIP is a global nonprofit membership organization for everyone involved in creating and managing business knowledge. Our mission is to enhance the success of our members through leadership, education, advocacy, and networking. SCIP provides education and networking opportunities for business professionals working in the rapidly growing fields of strategy and competitive intelligence. For more information, visit http://www.scip.org
About Cipher Systems
Cipher is an innovative boutique consultancy focused on providing consulting services and technology solutions that help clients better understand their market and their competitors, prioritize their CI investment, and reduce uncertainty in strategic decision making in order to make smarter, faster decisions. Cipher's consulting services are designed to provide clients with strategic insight into all aspects of the marketplace. Our services include Competitive Intelligence and Strategy Consulting, Market Analysis, Primary Research and M&A Due Diligence, Executive Training, and custom Competitive Intelligence Technology Solutions. For more information, visit http://www.cipher-sys.com