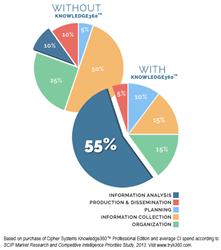 Traditionally, CI and Strategy practitioners can spend as much as half their time collecting data and information. With Knowledge360™, organizations can achieve 45% more analysis for less than half the cost.
Annapolis, Maryland (PRWEB) January 05, 2016
Competitive intelligence technology and consulting firm Cipher Systems, announces the launch of their new game-changing competitive intelligence and knowledge management software, Knowledge360™. The subscription-based, turn-key solution provides a one-stop competitive intelligence and knowledge management solution for companies of all sizes, and across industries. Knowledge360™ enables smarter and faster decision-making through a revolutionary approach for companies to gather, organize, and analyze information.
"Knowledge360™ represents a transformative advance in competitive intelligence," said Peter Grimm, Cipher Systems Managing Director. "Traditionally, CI and Strategy practitioners can spend as much as half their time collecting data and information, leaving little time for analysis and developing strategic insights. With Knowledge360™, we've flipped the model and estimate organizations can achieve 45% more analysis for less than half the cost."
Knowledge360™ is a scalable solution. It provides a reasonably priced solution for small competitive intelligence teams, but can also scale to support the largest and most complex enterprises. Knowledge360™ provides a customizable portal that seamlessly integrates numerous included premium data sources with your companies own internal files and information - allowing users to quickly find, view, and share information throughout the organization. Through its powerful information collection and organization features, Knowledge360™ fully automates routine aspects of the competitive intelligence process, thereby eliminating hours of time spent monitoring multiple news feeds and scouring various paid databases. With on-demand subscriptions, users only pay for data and information relevant to their needs.
Knowledge360™ streamlines the curation of competitor information and speeds reporting with built-in dashboards, allowing users to customize what sources and information they want see and quickly create views that can be shared across their organizations. With drag-and-drop widgets, users can build informative visualizations and dynamic analyses that update automatically as new information becomes available.
Key Features of Knowledge360™ include:
>>Customizable Dashboards – Subscribe to and monitor companies at the click of a button; viewing, customizing, and sharing what matters most on one page.
>>Dynamic Analytics – View, edit, create and share dynamic analysis all in one portal.
>>Advanced Reporting – Craft and disseminate advanced presentation-ready reporting.
>>Real-Time Data – Knowledge360™ pulls data and information from the top information suppliers and aggregators straight into your portal, granting you instant access to the information that you want and need – All in one location!
>>Discovery Analysis – Seamlessly manage existing knowledge and external data and information to discover patterns across the entire competitive environment, enabling you to see the whole strategic picture.
"Engaging our customers in the development process from the start, and applying our knowledge of the demands on today's CI and Strategy professionals, we have built a competitively-priced solution that allows our customers to maximize their time in order to do more with less. Knowledge360™ provides a customizable enterprise solution that effortlessly links your organization's information to help you maximize your competitive advantage!" said Beau Oliver, Cipher's Director of Business Development.
To learn more or to sign up for a free 30-day trial of Knowledge360™, visit http://www.tryk360.com.
About Cipher Systems
In order to make smart strategic decisions, corporate leaders must fully grasp key trends that will impact their marketplaces, their current position in the marketplace relative to competitors, and how their competitors are likely to behave in the future. Cipher is an innovative boutique consultancy focused on providing strategic and competitive intelligence services and technology solutions that help clients better understand their market and make smarter, faster decisions. We deliver actionable insights to help clients maximize competitive advantage and "see around the corner" when making strategic decisions. Cipher offers a wide range of services from industry-specific research and analysis, to market entry strategy. Knowledge360™ users can take advantage of discounted rates for Cipher's strategy and CI services, which can be delivered directly through the Knowledge360™ platform. To learn more about Cipher and its full range of services, please contact info@cipher-sys.com or visit the website at http://www.cipher-sys.com.