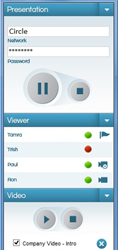 With this latest round of additional capabilities to our CircleMobile software, presenters can now effortlessly showcase and control a full range of content directly on audience's mobile devices.
Vancouver, WA (PRWEB) April 29, 2014
Circle Technology, Inc., developer of the secure mobile presentation software, announces CircleMobile – Presentations on the Go. The new software is designed for the business professional who is looking to deliver presentations in order to increase engagement and collaboration with their audiences. CircleMobile is now available for free 30-day trial at – TheCircleTech.com.
Steve Hix, founder of InFocus Systems and creator of their first projector, has spent the last 20 years perfecting the presentation market. ''With CircleMobile, professionals can bring creativity and conversation back into presenting business information, maintaining ease of connectivity and security. With the plethora of mobile devices people bring to work today, CircleMobile heralds the end of huddling around a single screen to show your information or struggling with cumbersome setup for projectors.''
CircleMobile allows a presenter to connect up to four devices and wirelessly screen share from the PC to mobile devices on a secure, closed network, anywhere, at any time.
CircleMobile is designed to work on Windows® 7 and 8 OS and allows the presenter to screen share any presentation from the hosting PC directly to Circle Displays, Circle Technology's hardware product, or mobile devices with the free Circle Viewer App installed, which is available on Google Play and Apple's App Store.
Circle Technology's proprietary software makes it possible to present without any connection to the Internet or corporate networks, thus eliminating any worries about faulty connections or security concerns. The type of secure presentation software is designed for executive level meetings, board rooms, training, outside sales, company meetings, marketing / advertising, classrooms and more.
CircleMobile Features and Benefits
Circle Technology has developed a user interface that allows business professionals to quickly and easily host, share and manage all the tasks and to know the viewers who have connected in the presentation. CircleMobile also features:

Full speed video streaming capabilities that improve audience engagement for training, education or to augment business information
Device-to-device real-time collaboration that can allow the presenter to allow an individual or the entire group to contribute or manage the presentation, giving the option for full engagement with a touch of a button, whether making real-time corrections or passing the presentation off to a colleague
Viewer screen pause allows the presenter to freeze the viewer screens at any point, providing the opportunity to work behind the scenes to discretely pull up another document, a video, or other information – while the viewer is unaware, still viewing the screen that was initially paused on.
"Having the freedom to present when and where you want, on your own device, is a huge competitive advantage for our users in these fast changing times," said Dr. Ron Khormaei, CEO of Circle Technology. "With this latest round of additional capabilities to our CircleMobile software, presenters can now effortlessly showcase and control a full range of content directly on audience's mobile devices."
The ability to present and put material into everyone's hands without the Internet benefits countless industries that require high-security and seamless connectivity, including: education, legal, financial, government / military, insurance, sales and more.
Hix's plans for future solutions do not stop here. To learn more about Steve's visions and hear about new product releases – Connect with Circle Technology on Facebook or follow on Twitter.
About Circle Technology
Circle Technology is a pioneer in developing secure presentation technology. Circle Technology's screen sharing products create a local, secure connection between PCs and mobile devices without the need for a network or Internet.
For more information http://www.thecircletech.com