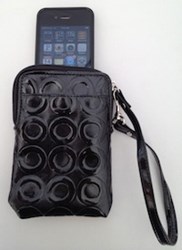 Even the 'I DON'T LIKE SMALL PURSES LADIES' are addicted. IT'S GREAT!! IT'S COMPACT!! IT'S ORGANIZED. How much do you really need to lug around all the time. Thank you again!!
Carson City, NV (PRWEB) October 13, 2013
Nifty-Nifty.com, the leading online retailer of nifty, innovative products as seen on TV, is excited to announce that they are extending their zero shipping cost program in the USA & Canada on their new product, Circles Luxury All In One Cell Phone Wallet Combo, which is a favorite among trendsetters. Many have wondered how to carry only their cell phone, credit cards, ID and money, and still look trendy.
Nifty-Nifty.com has the answer - Circles Luxury Cell Phone Wallet. With a zipper top closure, slip pockets inside and outside and ample space for the cell phone, Circles Luxury Cell Phone Wallet has it all and it's compact and trendy. Circles Luxury Cell Phone Wallet is now is now available to shoppers in USA and Canada with zero shipping costs and to shoppers in New Zealand, France, Israel, Mexico, Spain, Italy, France, Chili, Brazil and elsewhere internationally - just about anywhere, with a low shipping cost of just $5.00. The Circles Luxury cell phone wallet showcased on TV and is now available at Nifty-Nifty.
"We have sold innovative, trendy products for quite some time," explained Wendy Miller, co-owner of Nifty-Nifty.com.  "We are excited that trendsetters are favoring Circles Luxury Cell Phone Wristlet. We are one of the very few online retailers to sell the Circles Luxury Cell Phone Wallet with zero shipping costs to our USA & Canadian customers. Our Canada shipping program has been so successful we are extending it!"
For more information on the Circles Luxury Cell Phone Wallet, go to:
http://www.nifty-nifty.com/circles-luxury-all-in-one-cell-phone-wallet-is-a-tech-savvy-wristlet-keep-your-cell-phone-safe-scratch-free-handy/.
About Circles Luxury Cell Phone Wallet Combo
Circles Luxury All In One cell phone wallet crafted in all the latest shades of luxuriously soft faux patent leather with an Op Art elegantly textured design, is a tech-savvy All In One cell phone wallet case wristlet. This cell phone holder wallet wristlet stores and protects cell phones, mobile phones and other personal electronics—along with credit cards, cash, ID, keys and cords. Circles Luxury All In One cell phone wallet for ladies for use with cell phones, iPhone, iPhone 4, iPhone 4S, iPhone 5, Droid, Galaxy smart phones, MP3 players or small cameras, has a convenient wrist strap for portability and pockets for cash, credit cards and other essentials.  Circles Luxury cell phone case wallet combo keeps small electronics close at hand and is a multi function cell phone wallet wristlet, a little cell phone wallet which is compact, ultra durable and stylish.  Luxury cell phone wallet combination, a Coach inspired, lightweight, portable case is moisture resistant and stain resistant. All in one all purpose wristlet pouch as seen on TV, is a distinctive way to carry a cell phone or PDA, with small pockets inside and out to stash notes and business cards. Patent leather inside multifunction pockets with a Zip-top closure and a strap with a clip to form a wrist strap or to attach to the inside of a bag. There is also an outside open pocket. Luxury All In One universal cell phone wallet is smooth and soft and will keep your cell phone safe, clean and scratch-free. Now consumers can have it all, right in the palm of hand hand.
For a different look one of Nifty-Nifty's Klips can be added and attached to Circles Luxury All In One Cell Phone Wallet and attached to the waistband - totally hands free and totally cute!
About Nifty-Nifty.com
Nifty-Nifty.com is the world's leading online retailer of innovative, nifty products. The company specializes in online retailing of products such as the Readerest, Phubby, Cross Body Cell Phone Purses, Hip Klips, Circles Luxury Cell Phone Wallets and other innovative online products at the best prices with no charge shipping in the USA and Canada.
http://www.Nifty-Nifty.com
858 248-2302