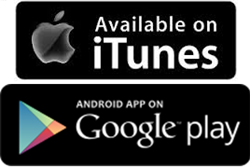 With the easy App downloads, our customers have the flexibility of adding viewer screens at any time…
Vancouver, WA (PRWEB) December 03, 2013
Circle Technology announces availability of Circle Viewer Mobile App on Apple's iTunes store and Google's Google play. These apps are available for free download and work in conjunction with Circle Host Software on a Windows PC. This capability adds to the existing option of preinstalled software on Circle Displays for presentations anywhere, any time.
Circle Viewer App allows any Android or iPad devices to connect directly to the Circle Host computer. Now you can bring your own device into any room and simply connect to the Circle Host presentation being conducted. This solution is ideal for worry-free presentations in small conference rooms or remote locations for sales or training purposes.
"With the app downloaded to your smartphone or tablet you and/or your clients can walk into any room where a Circle Host presentation is being conducted, open Circle Viewer, select the presentation and then connect to view the presentation. We are excited to widen the availability of Circle Technology solutions through the addition of these apps," explained Circle Technology CEO, Dr. Ron Khormaei.
Note: Circle Viewer App is for the client devices and requires the 'host or presenter' to download and install Circle Host Software (on Windows OS). For purchase or demo of Circle Host Software, please contact your Circle Technology sales rep or go to http://www.TheCircleTech.com to purchase Circle Host Software today.
About Circle Technology
Circle Technology is a pioneering Vancouver, Washington-based company with a family of presentation system solutions. Circle Technology provides a local screen sharing solution between Host PC and Viewer devices without need of cables or even the Internet, creating a secure network for worry-free presentations in high-stake small meetings. With Circle Technology, you can rely on one single solution, instead of a multitude of technologies having to somehow work together, just a simple click and you begin.
For more information, visit http://www.thecircletech.com
High-resolution images available at http://www.thecircletech.com/resources/