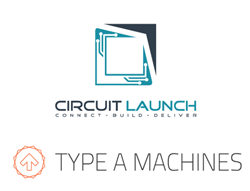 OAKLAND, CA (PRWEB) September 14, 2017
WHAT: Ribbon cutting and grand opening of new 30,000 sq ft. hardware-focused high-tech coworking space for entrepreneurs and startups, and the opening of 3D printer maker Type A Machines new headquarters.
WHO: Join Honorable Mayor Libby Schaaf, Circuit Launch founders, Type A Machines, and local business and community leaders.
Circuit Launch and Type A Machines advisors, including industry legend Nolan Bushnell, former Autodesk CEO Carl Bass, and North Face founder Hap Klopp, are expected.
WHEN: Monday, September 18th, 2017 @ 11am - 2pm PST
Mayor Schaaf's comments @ 12pm PST
WHERE: 8000 Edgewater Drive, Oakland, CA 94621
WHY: Bay Area startups rely on coworking spaces, such as Incubators, accelerators, and shared office spaces to advance their business models. Most of these spaces can not scale to suit teams in rapid growth or which produce tangible products. In particular, electronic hardware startups face a shortage of spaces which can support them from concept through production. These nascent businesses find themselves outstripping simple office set-ups and unable to acquire their own manufacturing equipment or outsource expensive limited production runs.
Circuit Launch is specifically designed to support the needs of hardware-focused startups, providing the necessary infrastructure, tools, test equipment, and community required to bring hardware-based products to market.
Circuit launch's first tenant is Type A Machines, a 3D printer startup in its 5th year.
Type A Machines provides rapid prototyping and final part production solutions to aerospace, automotive, and consumer goods brands, including: Apple, Google, Nike, Tesla, Stanford, UC Berkeley, Johns Hopkins, and over a 1000 others. The company pushes the boundaries of additive manufacturing - creating products and processes that rival traditional manufacturing processes.
Type A Machines' solutions will directly benefit Circuit Launch members seeking to prototype, and cost-effectively do short-run production of parts, housings, jigs and fixtures.
HOW: To RSVP for the event visit: http://evite.me/NP2cgeNejb
MORE:
About Circuit Launch:
Circuit Launch offers office, lab, and meeting space for electronic hardware companies to create, test, and iterate, all in one place. Circuit Launch builds communities of both established and startup hardware companies so that members can access experience when they need it, enabling innovation and a path to success thanks to a diverse network of engineers, suppliers, manufacturers, and hardware-friendly investors.
About Type A Machines:
Type A Machines is a San Francisco Bay Area startup that creates industrial-grade FDM 3D printing systems for the aerospace, automotive, consumer goods, and education markets. The company's award winning Series 1 3D printer is used throughout the rapid prototyping, and advanced manufacturing industry. The Series 1 forms the foundation of Print Pod, the first centrally managed parallel-production solution used as an alternative to traditional manufacturing processes. Notable customers include, Apple, Google, Johns Hopkins, Lockheed Martin, MIT, Nike,, Stanford, Tesla, Stanford, and UC Berkeley.
Entrepreneurs interested in more information about Circuit Launch should visit: http://www.circuitlaunch.com/
For more information about Type A Machines visit: https://www.typeamachines.com/
Circuit Launch, the Circuit Launch Logo are trademarks of Circuit Launch. Type A Machines, the Type A Machines logo, Print Pod, and Series 1 are trademarks of Type A Machines, Inc.. Other company and product names may be trademarks of their respective owners.
###