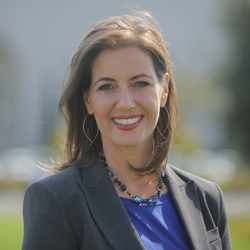 I'm excited to have Type A Machines and Circuit Launch bring their exciting products, expertise, and facilities to our amazing city," said Oakland Mayor Libby Schaaf. "We look forward to the new startups and jobs created at Circuit Launch.
OAKLAND, CA (PRWEB) September 18, 2017
Circuit Launch and Type A Machines today announced the official ribbon cutting and grand opening of the Circuit Launch facility, a newly-dedicated 30,000 square foot coworking space dedicated to hardware startups, and the new headquarters of Type A Machines.
When & Where:
Media tours of the coworking facility begin @ 11 am PDT
Noon – Program with remarks by Oakland Mayor Libby Schaaf, Circuit Launch founder Erik Katz and Andrew Rutter, Type A Machines founder and CEO
8000 Edgewater Drive, Oakland, CA 94621
"I'm excited to have Type A Machines and Circuit Launch bring their exciting products, expertise, and facilities to our amazing city," said Oakland Mayor Libby Schaaf. "Oakland fosters creativity and innovation. We welcome Type A Machines to our great city and look forward to welcoming the new companies and jobs created at Circuit Launch."
Circuit Launch is an innovative new approach for electronic hardware startups to come together as a community. The coworking space is designed so entrepreneurs learn and grow together, while benefiting from dedicated hardware development equipment and shared resources. The facility offers flexible configurations of office, lab, and meeting space for companies to create, test, and iterate, all in one place.
"Bay Area startups frequently rely on coworking spaces, such as incubators, accelerators, and shared offices, to develop their products and business models. Unfortunately, these spaces don't scale economically and have difficulty serving startups which produce tangible products," said Erik Katz, founder of Circuit Launch. "Electronic hardware startups need spaces that support their businesses from concept through early production runs. Most though find themselves outstripping simple office set-ups, yet unprepared to acquire their own manufacturing equipment or ability to outsource expensive limited production runs - that's where Circuit Launch comes in."
Circuit Launch's community based approach builds links between established, and startup hardware companies so members can access experience when they need it, enabling innovation across an ecosystem of engineers, suppliers, manufacturers, as well as hardware-friendly investors.
Circuit Launch also benefits from strategic partnerships of local manufacturing firms like BriteLab, Vander-bend, Meritronics, and component supplier Digikey.
Coworking and shared office space has seen exponential growth in recent years. According to the 2017 Global Coworking Survey, "By the end of the new year, nearly 1.2 million people worldwide will have worked in a coworking space." While many people can easily take advantage of traditional coworking spaces to collaborate and lower the cost of leasing a traditional office space; hardware startups need resources that don't fit this model. Circuit Launch changes this by adding vital hardware specific capabilities such as electronics labs, fabrication tools, and strategic partnerships to industry partners.
Type A Machines New Headquarters
Type A Machines is a San Francisco Bay Area startup that designs the award-winning Series 1, an industrial-grade 3D plastics printer used throughout the rapid prototyping and advanced manufacturing industry. The Series 1 forms the foundation of Print Pod, the first centrally managed parallel-production solution that enables micro-fabrication and rivals traditional manufacturing processes. The company's products are in use by customers in the aerospace, automotive, consumer goods, and education markets including, Apple, Google, Nike, Tesla, Stanford, UC Berkeley, Johns Hopkins, and over a 1000 others.
"We're thrilled to align with, and move our headquarters to Circuit Launch," said Andrew Rutter, Type A Machines founder and CEO. "Birthing a hardware startup is a difficult, resource-intensive endeavor that benefits greatly from shared resources and knowledge. Having access to hardware development tools, testing equipment, and a community of like-minded, hardware-centric entrepreneurs provides the critical elements for success. We look forward to being a part of the community and sharing our experiences, relationships, as well as our 3D printing and production know-how and capabilities with entrepreneurs looking to get their vision off the ground."
"Hardware is hard. Large manufacturing companies, or companies built from scratch understand the complexities of prototyping, supply chain management, and production scaling." continued Katz. "Smaller hardware startups, all over Silicon Valley, are independently attempting to solve all the same challenges. By joining Circuit Launch, entrepreneurs benefit from a community of hard earned wisdom to develop their product - with our tools, facilities and partnerships."
"I try to get a vision of the future, and then I try to figure out where the discontinuities are." - Nolan Bushnell, Founder Atari, Circuit Launch Advisor
Entrepreneurs interested in membership details should visit: https://www.circuitlaunch.com/
For more information about Type A Machines visit: https://www.typeamachines.com/
Circuit Launch, the Circuit Launch Logo are trademarks of Circuit Launch Inc.
Type A Machines, the Type A Machines logo, Series 1, Series 1 Pro, and Print Pod are trademarks of Type A Machines. Other company and product names may be trademarks of their respective owners.
Type A Machines logo and press images: https://www.typeamachines.com/press
###