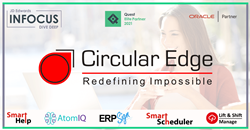 INFOCUS Dive Deep provides a unique opportunity to blend our personal and professional lives and we look forward to recognizing the efforts of all those in the Oracle JD Edwards community with continous innovation stories, family-friendly Bingo experience and entertaining giveaways
SOMERSET, N.J. (PRWEB) October 14, 2021
Circular Edge, an award-winning Oracle JD Edwards, Oracle Customer Experience (CX), and Cloud Service Provider, and a member of Oracle PartnerNetwork (OPN), continues its investment in the Quest Oracle Community as an Elite Partner to support Oracle JD Edwards customers in realizing continuous value with Oracle's JD Edwards EnterpriseOne, which will be highlighted during INFOCUS Dive Deep, October 18-21.
Circular Edge and its customers will participate in several educational sessions to highlight their success stories in leveraging new product and service innovations, along with Oracle JD Edwards tools and technologies, to help deliver digital transformation:

2-Hr Interactive Workshop: Getting Started with Orchestrations – Monday, October 18, 1:30pm EDT
Advanced JD Edwards Batch Job Scheduling with Smart Scheduler – Tuesday, October 19, 2:15pm EDT
Automate & Digitize with Integrated eSignature Workflows using ERPSign – Tuesday, October 19, 4:15pm EDT
10 Apps to Kickstart Mobile Deployment – Wednesday, October 20, 9:45am EDT
Advanced Pricing, Repricing & Procurement in Action – Wednesday, October 20, 1:45pm EDT
Tools 9.2.5 In Action – Wednesday, October 20, 5:00pm EDT
Reporting Tips & Tricks with BI Publisher and SharePoint – Thursday, October 21, 9:15am EDT
Customer Case Study: How One Manufacturing Company Simplified Order to Ship – Thursday, October 21, 11am EDT
6 Steps to Rapidly Build & Deploy LC/NC Mobile Apps from Scratch – Thursday, October 21, 12:15pm EDT
Another way Circular Edge will highlight new & flagship product and service innovations along with the many ways customers can tap into 170+ technical and functional resources through Smart Help On Demand, Staff Aug+, Managed Services, etc, is through 5-Minute Demos in CE's virtual exhibit booth:
To complement this virtual conference experience, Circular Edge invites attendees, their families and loved ones to a customer appreciation event including musical Bingo, family fun and networking on Thursday, October 21 beginning at 4:30pm Eastern.
"We've always believed that success comes from taking care of others, whether that is helping customers overcome business challenges to move their organizations forward through difficult times or supporting the families and loved ones of customers and colleagues who are continuing to balance their professional and personal responsibilities," said sAchin cHoudhari, CEO & Founder. "The virtual INFOCUS Dive Deep provides a unique opportunity to blend our personal and professional lives, especially with so many of us continuing to work from home, and we look forward to recognizing the efforts of all those in the Oracle JD Edwards community with a family-friendly Bingo experience and entertaining giveaways."
Circular Edge will also feature unique customer giveaways including entertaining innovations for customers to enjoy with loved ones:
Xbox Series S Gaming System
Ooni Outdoor Pizza Oven
Learn more about these offerings by scheduling a one-on-one meeting with the CE team and engaging with digital resources and more in CE's virtual exhibit booth: https://www.circularedge.com/infocus-dive-deep
In addition, Circular Edge has made available several complimentary digital resources to further illustrate how customers can drive continuous value from Oracle JD Edwards EnterpriseOne 9.2 and the latest RPA, Attended Automation & Mobile tools and technologies:
About Circular Edge
Circular Edge (CE), started in 2003, is an award-winning, full-service Oracle JD Edwards, Oracle Customer Experience (CX) & Cloud Service Provider. Built from the ground up as an Oracle JD Edwards consulting company, CE employs a direct staff of 160+ functional and technical resources who bring extensive Oracle JD Edwards, Oracle CX & Cloud domain expertise into short- and long-term projects, managed services and staff augmentation engagements. CE also delivers packaged solutions such as AtomIQ, Smart Scheduler (3x OVI), ERPSign, AutoXCHNG, Lead2Lease & Oracle CX Add-Ons. Learn more about CE product & service innovations including Smart Help, our 2x award-winning customer success formula by visiting http://www.circularedge.com.
Follow Circular Edge on LinkedIn and Twitter.
About Oracle PartnerNetwork
Oracle PartnerNetwork (OPN) is Oracle's partner program designed to enable partners to accelerate the transition to cloud and drive superior customer business outcomes. The OPN program allows partners to engage with Oracle through track(s) aligned to how they go to market: Cloud Build for partners that provide products or services built on or integrated with Oracle Cloud; Cloud Sell for partners that resell Oracle Cloud technology; Cloud Service for partners that implement, deploy and manage Oracle Cloud Services; and License & Hardware for partners that build, service or sell Oracle software licenses or hardware products. Customers can expedite their business objectives with OPN partners who have achieved Expertise in a product family or cloud service. To learn more visit: http://www.oracle.com/partnernetwork
###
Trademarks
Oracle, Java and MySQL are registered trademarks of Oracle Corporation.