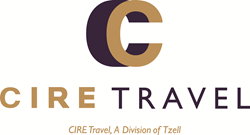 Our clients trust our agents to be the only call they need to make for every imaginable travel itinerary and scenario.
NEW YORK (PRWEB) April 01, 2019
CIRE Travel, a division of Tzell Travel Group, specializes in concierge-style planning for corporate travel, groups and meetings, luxury vacations and honeymoons. With Panaccione on board, the company further expands its expertise in advertising and entertainment industry travel management.
For the past 30 years, Panaccione has worked as a travel advisor, specializing in corporate travel for media and advertising. Before joining CIRE, she worked most recently for Condé Nast Publications for 18 years where she managed editorial, advertising and group travel for various brands. Some event travel that Panaccione managed included the Vanity Fair Oscar ® parties, GQ's Men of the Year awards, Glamour's Women of the Year summit, Golf Digest Masters' events, Bon Appetit's Vegas Uncork'd and The New Yorker Festival, to name a few.
"Robyn is the epitome of CIRE-level service," says Eric Hrubant, CIRE Travel's chief travel planning officer and CEO. "Her 30 years of experience means she understands travelers' needs in ways novice agents simply can't."
Panaccione has managed itineraries for hundreds of photo shoots, which require arranging travel for models, photographers, makeup artists and crew, along with their wardrobe, trunks and camera gear. A New Jersey-native, Panaccione started her career in the travel industry with Alitalia airlines.
"Our clients trust our agents to be the only call they need to make for every imaginable travel itinerary and scenario," says Hrubant. "For our corporate clients, time is money. Through our industry relationships, our clients enjoy perks, upgrades, waivers and savings of up to 30 percent, benefits usually reserved for Fortune 500 travelers. Plus, knowing that any issue will be handled with one phone call to us eliminates any travel stress for our clients, so they can focus on their work."
"I am grateful to be a part of CIRE and Tzell, who provide the insider industry relationships and clout necessary for me to ensure that all of my clients' needs are met," says Panaccione. "I can't imagine a better place to use my experience and connections for our travelers. I enjoy looking 10 steps ahead for our corporate and entertainment clients to create the best travel experience possible."
About CIRE Travel
Founded in 2013 by Eric Hrubant, CIRE Travel is headquartered in New York City and has offices in Los Angeles, Boston, Washington, DC and Kennebunkport, Maine. The agency is backed by the power of Tzell Travel Group, which Business Travel News ranks first among the nation's largest corporate travel management companies. CIRE Travel specializes in luxury vacations and honeymoons, meetings and group travel and corporate travel. It's team of seasoned industry professionals taps into their travel industry connections to give their clients the same perks, waivers, upgrades and buying power that Fortune 500 companies receive. These connections and level of service are the foundation of CIRE Travel's promise: "It's handled." To learn more about the agency, please visit http://www.CIREtravel.com.