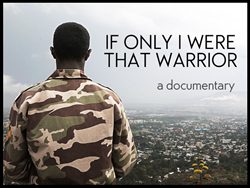 New York filmmaker debunks the myths of Italian colonialism in Ethiopia.
(PRWEB) March 04, 2014
Valerio Ciriaci wants the truth to be told about Italian occupation of Ethiopia in the 1930s.
Why? And why now, nearly 80 years later? Because Italy recently constructed a monument to honor Rodolfo Graziani, a Fascist general who committed numerous – and hideous – war crimes during the Italian colonialism of Ethiopia. Graziani's widespread use of chemical weapons and his violent repression of civilians were never punished and are largely forgotten, even in Ethiopia.
"That is a remarkable oversight," says Ciriaci, an independent filmmaker who was born in Rome and moved to New York City in 2011 to attend the New York Film Academy.
If Only I Were That Warrior, a documentary film directed by Ciriaci, will unveil the grisly truth about General Graziani and ask some very serious questions about the people who have chosen to honor him. News of Graziani's monument, located in Affile (a small town near Rome), has spread around the world, creating fierce outrage in many countries, including the United States. The film actively follows many of the protests currently taking place.
If Only I Were That Warrior is an attempt to set the record straight and capture the indignation of protesters – but it requires additional financial backing to reach completion. About half of the footage has been shot thus far; Ciriaci and producer Isaak Liptzin need to raise about $17,500 by the end of March to keep the project running.
They are using a Kickstarter campaign to encourage worldwide funding from anyone and everyone offended by the Graziani shrine. A pledge of $10 will include the donor's name in the film credits.
Those contributing higher amounts will receive copies of the film, T-shirts, dinner for two at an Ethiopian restaurant (plus copies of the film) and an invitation to a screening party in New York City. Thus far $2,085 has been raised.
To support this effort, visit http://www.kickstarter.com/projects/awenfilms/if-only-i-were-that-warrior-a-documentary.
"The monument dedicated to Graziani is an expression of a widespread historical revisionism," says Ciriaci. "It minimizes the crimes of Fascism and portrays Graziani as some kind of hero. This dark past has often been overlooked in mainstream historical narratives."
Since leaving Italy in 2011, Ciriaci has worked on three films in the U.S. but this is, by far, his most ambitious project. In filming If Only I Were That Warrior, he has traveled to Dallas, New York, Rome and Ethiopia to collect dialogue, images and memories – as well as footage of the protests – associated with Ethiopian atrocities brought on by Italian colonialism in the 1930s.
The film also details Yekatit 12, an infamous date in the Ethiopian calendar (equivalent to February 19) when Ethiopians were indiscriminately massacred following an attempted assassination of Graziani in 1937.
"This film exposes an unresolved legacy that still ties the fates of two nations and their people," notes Ciriaci.
For further information about If Only I Were That Warrior or to contribute to the film's Kickstarter campaign, visit http://www.kickstarter.com/projects/awenfilms/if-only-i-were-that-warrior-a-documentary or the official film website, http://www.ifonlyiwerethatwarrior.com. You can also reach Liptzin at info(at)awenfilms(dot)net.