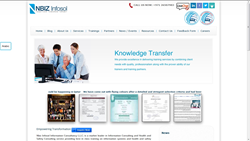 CISA is one of the most valued certification courses that aim to prepare the candidates for various audit, security and control job positions.
Abu Dhabi, UAE (PRWEB) June 21, 2014
Abu Dhabi based Nbiz Infosol is a market leader in Information Consulting and Health and Safety Consulting. The company offers infrastructure management, training, and consultancy services to the businesses that want to improve their productivity and reduce their overall operating costs. Over the years, the company has established itself as a one-stop destination for the businesses that wish to realize their organizational goals by utilizing a range of services offered by Nbiz Infosol. The company further excels in offering system integration, information technology consulting, outsourcing and project management services to the businesses at affordable rates. Nbiz Infosol is now offering Certified Information Systems Auditor (CISA) course to the students or individuals who wish to complete the CISA examination.
Talking about the course objectives, a senior official at Nbiz Infosol commented, "CISA is one of the most valued certification courses that aim to prepare the candidates for various audit, security and control job positions. At Nbiz Infosol, we intend to enable the candidates to learn about the contents of CISA course so that they complete the CISA certification course successfully. The company further focuses on providing ample information and experience about information system control, security and auditing. During the training course, candidates will come to know about the Code of Professional Ethics."
Those who complete CISA successfully are equipped with technical knowledge of the industry and hence, they can do IS auditing better than those who do not have such certification. Nowadays, employers lay a clear emphasis on CISA certification while hiring the professionals for different positions or promoting their employees. CISAs are capable enough to contribute to the overall growth and development of an organization and hence, employers prefer hiring and promoting them to higher positions.
The company official told us further, "Aside from offering CISA training, we also offer CISSP (Certified Information Systems Security Professional) course, CISM training, Certified Business Continuity Professional course and other courses. Furthermore, we also cater to the businesses that require expert assistance in strategic planning, governance, operations management, auditing, ISO consultation, AD EHSMS consultation, Information governance, Information Security, Enterprise Communication Management, Resources Augmentation and other services."
CISA course prepare the candidates for the challenges they are supposed to face in their professional career. Nbiz Infosol offers CISA certification training courses in Abu Dhabi, Dubai and Chennai, so that more and more candidates can complete the CISA examination.
About Nbiz Infosol:
Headquartered in Abu Dhabi, UAE, Nbiz Infosol is a leading and renowned information solutions company that assists the Middle East based companies to realize their different corporate goals. The company strives to enable the businesses by suggesting them appropriate Information System and IT Security solutions. The range of courses offered by Nbiz Infosol include project management, outsourcing, IT Consulting, ethical hacking training, and system integration. Hence, businesses rely on Nbiz Infosol to improve their productivity, hire the right people for the right job and reduce the overall operating costs. The company also offers computer training courses in Dubai to help the businesses hire the right computer professionals for various positions.
Contact Details:
Nbiz Infosol
Abu Dhabi, UAE
Al Salam Street, Tourist Club
Mansoor Tower, 4th Floor,
# 402 Abu Dhabi, UAE
P.O Box: 33287
Tel : +971 26507983
Fax : +971 26507984
Chennai, India
1/6, 8th Cross Street
Indira Nagar, Adyar
Chennai - 600 020,
Tamilnadu, India
Tel : +914424421761
Tel (Toll Free Number): 0008001004217
Email: info(at)nbizinfosol(dot)com
Web: http://www.nbizinfosol.com/