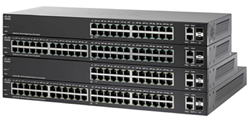 The Cisco 220 series switches offer superior intelligence and security features.
Milwaukee, WI (PRWEB) July 09, 2014
IP Phone Warehouse is excited to announce the new Cisco 220 series Smart Plus switches, designed to combine the best of managed and smart networking.
Cisco has been making incredible strides towards making networking solutions simpler and overall a better investment for small to medium sized business. These new Cisco switches offer the affordability of smart switches, with the enhanced security and scalability of managed switches. The end product is an intelligent and high-performance managed switch.
Advanced features:

Device authentication and access control
PoE+ to support advanced IP equipment
QoS for unified communications, voice and video
Compared to similarly priced network switches, the Cisco 220 series switches offer superior intelligence and security features. The switches can automatically protect critical data, control traffic and even offer guest VLANs. A user-friendly graphic interface lets network administrators easily manage the switch's functions.
Several models of these network switches are available, ranging from 24 to 50 fast Ethernet or gigabit-Ethernet ports, all of which facilitate a rapid flow of data. All of the models also include two gigabit-Ethernet combo ports to support fiber optic uplinks, ideal for connecting switches vertically or horizontally across the office.
PoE+ lets the switches supply power and data to IP surveillance equipment and wireless access points dispersed across any landscape. QoS not only ensures that VoIP and IP video communications quality is prioritized, but that critical security and network endpoints are running smoothly.
The Cisco 220 series Smart Plus switches are extremely reliable, with a limited lifetime hardware warranty backing them up. These switches bring value and peace of mind to any network infrastructure.
Find the Cisco 220 Smart Plus switches here: http://www.ipphone-warehouse.com/Cisco-220-Series-Switches-s/2122.htm. Contact IP Phone Warehouse's free pre-sales technical support at (888) 201-9056 or service(at)ipphone-warehouse(dot)com to request more information.
About IP Phone Warehouse
IP Phone Warehouse is the leading specialty reseller of VoIP phones, video conferencing equipment and network devices. We're stocked with everything that small businesses and enterprises need to deploy reliable VoIP and video solutions. A dedicated customer service team and a wide range of available online resources support every product at IP Phone Warehouse.