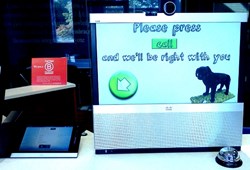 "We use the "always on" video conferencing as a virtual receptionist so that anyone manning the post can remotely greet visitors from their desk, allowing them to simultaneously work on other critical tasks." - Ben Sayers, VoIP Supply CEO
Buffalo, NY (PRWEB) September 26, 2013
VoIP Supply decided to employ a little science fiction by creating a new virtual receptionist with the help of the Cisco EX60 TelePresence System.
VoIP Supply is well-known for providing a great experience over the phone or on its eCommerce website when customers need answers about VoIP hardware or help with designing a Unified Communications solution for their business.
Walk-in customers at VoIP Supply are getting an entirely new experience as they are now greeted with the EX60's 21.5" color LCD screen that displays the message, "Please press call and we'll be right with you."
An arrow on the screen points to the the 8-inch Cisco TelePresence touchscreen interface off to the side and wired to the monitor which allows for a simple one-touch call control.
The Cisco EX60 also features:

Immediate connectivity to, and full compatibility with, SIP and H.323 standards-compliant telepresence and video conferencing systems.
Optimized for use with Cisco Webex Telepresence hosted video service.
A Cisco TelePresence PrecisionHD camera provides up to 1080p30 video resolution, auto focus, privacy shutter, and a document camera mode.
LCD 21.5" HD screen can be used as both a standard PC monitor or for video conferencing.
"We use the "always on" video conferencing as a virtual receptionist so that anyone manning the post can remotely greet visitors from their desk, allowing them to simultaneously work on other critical tasks," said Ben Sayers, CEO of VoIP Supply.
For information on the many uses of the Cisco EX60 TelePresence System, please call 800-398-8647 or visit http://www.voipsupply.com/cisco-ex60 .
About VoIP Supply
We are a place of uncovering, cultivating and developing leaders. A world class place to work with big goals, a clear vision, defined purpose and a dedicated team of passionate business professionals. We love what we do and do it better than any of our competition.
Since 2002, VoIP Supply has been the leading supplier of VoIP equipment and complete VoIP solutions in North America. We are known in the industry as responsive and knowledgeable VoIP product experts.
With everything you need for VoIP, VoIP Supply has grown rapidly throughout the years. VoIP Supply is a three-time Inc. 500/5000 honoree, listed by Business First as one of WNY's Most Admired Companies, as well as one of Western New York's Best Places to Work for many consecutive years, including 2012. VoIP Supply is also the first Certified B Corporation in Western New York.