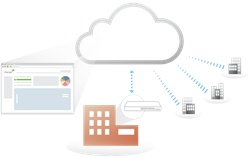 The technology can unite up to tens of thousands of Cisco Meraki devices under a single cloud management network
Waukesha, WI (PRWEB) December 17, 2014
TriTech Corporation, the Milwaukee Metro area and southeastern Wisconsin's premier single-source IT provider, is pleased to announce its renewed partnership with Cisco. To celebrate the achievement, TriTech is offering new Cisco support services and promotions, including Cisco Meraki sales and service.
Cisco Meraki wireless access points and switches are managed from the cloud. This innovative architecture eliminates the need for expensive and complicated management systems. Manage the access points, switches and network hardware from a single point, accessible from nearly anywhere.
Universities, K-12 schools, chain restaurants and more are taking advantage of this powerful networking solution. Cisco Meraki isn't just for small businesses or enterprises looking for a simplified solution. The technology can unite up to tens of thousands of Cisco Meraki devices under a single cloud management network, bringing a return on investment to any organization with remote or multiple locations.
Key benefits of deploying Cisco Meraki:

A quick installation and provisioning process
Have complete control over individual users and applications
Receive alerts from automated event/security monitoring
Download and install updates instantly to the network
Countless applications and possibilities:
Network topology to provide a virtual map of connected devices
Integration with mobile devices like tablets and smartphones
Scalable and flexible to support upwards of a million users
Security applications and hardware also available
All manageable from a single user interface/dashboard
The technology behind Cisco Meraki is incredible. As a Cisco partner, TriTech Corporation staffs Cisco-certified technicians and engineers. They've already installed these cutting-edge wireless access points, switches and devices in businesses all across the Milwaukee area.
To learn more about Cisco networking and cloud technology, contact TriTech by phone: (262) 717-0037 or email: service(at)tritechcoa(dot)com, or visit online: http://www.tritechcoa.com.
TriTech Corporation is an authorized Cisco service provider. Reach out for sales, services or general Cisco help and troubleshooting support.
About TriTech Corporation
TriTech has grown from a printer repair business into southeastern Wisconsin's premier single-source IT provider. Since 1993, we've believed in using technology to help businesses and organizations boost productivity and reduce overall expenses. Find out how our years of experience, proven accountability and broad service portfolio can strengthen your bottom line, no matter what industry you're in.