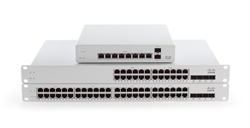 Cisco Meraki MS switches offer state-of-the-art switching with a convenient cloud management system.
Milwaukee, WI (PRWEB) June 26, 2014
IP Phone Warehouse is excited to announce the availability of the industry's first cloud managed switching solution. Manage the Cisco Meraki MS switch from the cloud through a PC or mobile device, with support for virtual stacking of thousands of gigabit Ethernet ports.
Cisco Meraki MS switch models include:

MS220 series with layer 2 management
MS320 series with layer 3 management
MS420 series with 10-GbE and layer 3 management
Configurations from eight to 48 ports
Power over Ethernet available
Cloud management is ideal for accessing Cisco switches at remote locations without travel or IT expenses. Virtually combine all of the Meraki MS ports into one easily accessible interface. The switches can be deployed at satellite offices, on campuses or distributed architectures.
These network switches can also send alerts via email or SMS text, triggered by events that cause the appliance to lose power, degrade performance or change its configuration.
The Cisco Meraki MS320 and MS420 switches feature high-speed layer 3 access. Data traffic is directed through the shortest pathways for faster processing, and follows redundancy and failover protocols to prevent packet loss.
For voice and video, the switches are designed to intelligently optimize clarity and performance. This is accomplished through layer 2 or layer 3 QoS, letting real-time traffic take priority. Mission critical VLANs can be manually given priority to ensure quality.
Cisco Meraki MS switches offer state-of-the-art switching with a convenient cloud management system. Connect office equipment to these switches, and monitor individual clients and data usage through an advanced Layer 7 portal. These devices bring extremely fast switching, troubleshooting and administration to any type of network.
Ideal applications for cloud switching:
Small businesses
Enterprises
Remote offices
Campuses
See the full line of Cisco Meraki MS switches at http://www.ipphone-warehouse.com/Cisco-Meraki-MS-Switches-s/2128.htm. Contact IP Phone Warehouse at (888) 201-9056 or service(at)ipphone-warehouse(dot)com to learn more.
About IP Phone Warehouse
IP Phone Warehouse is the leading specialty reseller of VoIP phones, video conferencing equipment and network devices. We're stocked with everything that small businesses and enterprises need to deploy reliable VoIP and video solutions. A dedicated customer service team and a wide range of available online resources support every product at IP Phone Warehouse.