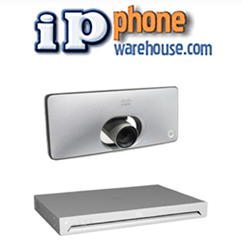 No more costly installation and maintenance fees.
Milwaukee, WI (PRWEB) March 25, 2014
Cisco is improving video conferencing with the new TelePresence SX10 and SX80. Both are versatile and powerful, with their own unique method of transforming any meeting room into an intuitive conferencing experience. Find these and more of Cisco's collaboration solutions at IP Phone Warehouse.
The Cisco TelePresence SX10 Quick Set is designed to be exactly that—quick to set up. All that's required is a flat panel display and a network connection. A built-in HD camera and microphone take care of the rest. Install this all-in-one device with a television or whiteboard, and then enjoy high-definition communications.
Need more than HD? The Cisco TelePresence SX80 codec can support the new H.265 video standard, readying any business for 3D and 4K resolutions. Three-monitor support, and multiple video and audio inputs let the meeting room grow around the participants' requirements.
As different as they are, these Cisco systems are built around the same idea, to couple a straightforward approach with future-proof technology. No more costly installation and maintenance fees. Finally, we're seeing a first-rate video conferencing solution that can keep up with the latest innovations, without costing a business more money than it already spent.
Install the SX10 as is in a small room, or expand the SX80 to support a larger area. IP Phone Warehouse is excited to offer these two dynamic Cisco TelePresence solutions. For more information about the features and benefits of these systems and other Cisco products, contact IP Phone Warehouse today.
About IP Phone Warehouse
IP Phone Warehouse is stocked with affordable products, maintained by a dedicated support staff. Small and medium-sized businesses find the VoIP, video and conferencing solutions they need, plus a wide selection of readily available knowledge. Equip any office, call center or other workplace with the latest productivity-driven solutions.