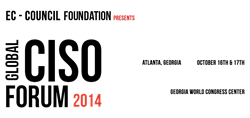 All Global CISO Forum events are by invitation only. Anyone interested in attending should contact Amber.Williams(at)eccouncil(dot)org.
Atlanta, GA (PRWEB) June 24, 2014
EC-Council Foundation's series of Global CISO Forums continues making waves in the information security industry. For the fourth consecutive year, EC-Council Foundation is bringing the best information security executives from around the world to discuss the ever-changing threat landscape and ever-widening job responsibilities faced by the Chief Information Security Officers (CISO) in all industries.
This year's theme is, "Striking a Balance - Innovation Versus Strong Fundamentals." Day one of the agenda will cover Information Security Fundamentals that are easy to overlook and potentially difficult to get funding for. Day two will cover innovations in Information Security and how to implement next gen solutions and ideas.
Highlights from day one of the agenda include a talk by Jason Smolanoff, VP of Stroz Friedburg and former FBI supervisor, titled, "The Many Facets of a Data Breach: What Every CISO Should Know Before it Happens." This presentation will provide practical examples, case summaries, and actionable takeaways designed to assist CISOs with managing the legal, operational, and technical issues resulting from a data breach. Also on day one, Eric Svetcov, CSO of MedeAnalytics, will be leading a panel of experts discussing Contractor & Third Party Security. Svetcov, a contributing author to the CCISO Body of Knowledge, brings years of experience as an information security leader to discuss one of the most challenging aspects of managing enterprise security – the sometimes huge number of contractors and vendors who's security practices (or lack thereof) can have tremendous impacts on the security of an overall organization.
Day two, Innovation Day, will feature Michael Davis, the CTO of CounterTack, who will present an exciting talk exploring how CISOs can craft advanced security strategies called, "Improving Security by Using Attacker's Tools Against Them." Also on day 2 will be Jim Treinen, Director, Threat Management and Research at ProtectWise, Inc., presenting, "Time Travel Required: Why Looking Once is No Longer Good Enough." Treinen's talk will ask CISOs, "Do you really know if you've been compromised?" making the point that "open Threat Intelligence exchanges, deep data analytics, highly skilled analysts, all great, but none of them are capable of catching every attack as it occurs."
Previous Global CISO Forum events have drawn attendees and speakers from around the world, including Hong Kong, Egypt, the Netherlands, Bangladesh, Canada, the Philippines, Ghana, Sri Lanka, China, Zambia, Nigeria, the UAE, Switzerland, Mexico, the United Kingdom, Iceland, and all across the United States. All Global CISO Forum events are by invitation only. Anyone interested in attending should contact Amber.Williams(at)eccouncil(dot)org.
About the EC-Council CISO Program:
EC-Council's CISO Program has three components: CISO Events, the Certified CISO (C|CISO), and CISO Resources – a repository for white papers and articles geared toward a CISO crowd. EC-Council's CISO Events are invitation only and geared specifically for high-level, executive information security professionals. Combining keynotes with panel discussions, the events are opportunities for CISOs from around the world to hash out the trends and challenges of information security among their peers. The C|CISO is a certification recognizing an individual's cumulative experience and expertise in executive information security management. Overseen by a board of seasoned and distinguished professionals, the C|CISO Program has certified over 700 IS executives from around the world. For more information about EC-Council's CISO Program, please visit ciso.eccouncil.org.
About EC-Council Foundation:
EC-Council Foundation is a charitable and educational organization dedicated to educating and training individuals in security skills. Established in 2012 by EC-Council, the foundation seeks to raise awareness, build capacity across nations and ultimately promote global peace. EC-Council Foundation's mission is to foster collaboration and participation by global digital citizens to become advocates for safe, secure on-line activities and to foster online child protection through education. For more information, visit foundation.eccouncil.org.