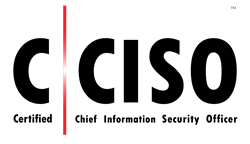 Compared to EC-Council's flagship certification, CEH, CCISO salaries are already much higher ... suggesting that information security managers and executives are adopting the programexecutives are adopting the program
Albuquerque, NM (PRWEB) February 26, 2016
EC-Council's Certified CISO program began because EC-Council saw a gap in industry certifications. Now, it's nearly topping the charts for salaries of its members. According to the owners of the survey, Certification Magazine, "11,753 certified IT professionals weighed in over the course of roughly seven weeks at the end of 2015" to contribute to the survey. The survey respondents were asked questions about their salaries, titles, and the certifications that they hold and over 800 certification programs were represented. The CCISO program boasted an average salary of $137,800 for US and international professionals, the second highest on the list. When just US salaries were taken into consideration, the average salary climbed to $143,050, the fourth highest of the entire list.
EC-Council was uniquely situated to address this gap after being the world's leading certification body for ethical hackers for nearly a decade. Having worked with industry veterans building EC-Council's other programs meant that EC-Council leaders were in touch with leading CISOs all over the world who were telling them versions of the same thing: there is no training program for information security managers who need to learn executive skills to handle the burgeoning role of CISO. Another factor in decision to build the CCISO program has been the thousands of EC-Council members who have earned various technical certifications starting in 2003. Members who were once just entering the information security industry are now moving into management and needed a certification to help them achieve their goals.
EC-Council responded to these needs by building the CCISO program with the help of dozens of industry leading, practicing CISOs. The CCISO Body of Knowledge, the CCISO Exam, and the Training Program were developed with the help of several committees of professionals committed to educating and preparing both aspiring and current infosec executives. The eligibility requirements early on were feared to be a barrier to building a successful program as they are higher than industry standards, but EC-Council wanted to ensure the requirements were in-line with the managers they hoped to reach with the program. There is an online assessment that can help managers determine if they are ready for the program, or if a more technical, less difficult program would be better suited for their skill level.
Based on this latest salary survey, they hit the mark. Compared to EC-Council's flagship certification, Certified Ethical Hacker (CEH), CCISO salaries are already much higher after only being on the market for around two years, suggesting that information security managers and executives are adopting the program at a very quick pace.
About EC-Council
EC-Council has been the world's leading information security certification body since the launch of their flagship program, Certified Ethical Hacker (CEH), which created the ethical hacking industry in 2002. Since the launch of CEH, EC-Council has added industry-leading programs to their portfolio to cover all aspects of information security including EC-Council Certified Security Analyst (ECSA), Computer Hacking Forensics Investigator (CHFI), Certified Chief Information Security Officer (CCISO), among others. EC-Council Foundation, the non-profit branch of EC-Council, created Global CyberLympics, the world's first global hacking competition. EC-Council Foundation also hosts a suite of conferences across the US and around the world including Hacker Halted, Global CISO Forum, TakeDownCon, and CISO Summit.
For more information about EC-Council, please see http://www.eccouncil.org.