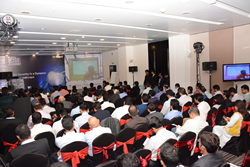 EC-Council's commitment to the executive information security space is evident not only in putting on an incredibly informative line up of speakers and panel sessions during the conference, but also in the pre-conference training session.
Pune, India (PRWEB) August 13, 2015
The EC-Council Global CISO Summit 2015 India held on August 01, 2015 at Courtyard Marriott received an overwhelming response with the exclusive audience of information security executives it attracted. The event was the sixth edition of the series worldwide and the first to be presented in India. The event hall was packed with information security leaders leaving standing room only.
The Summit's overarching theme was "Agile Security in a Dynamic Threat Landscape" and the keynotes and panel discussions all focused on how the management of information security must be adaptive in order to be successful. As recent headlines have shown the world, even well developed security programs can be hacked – the key is to adapt to the threat landscape to stay ahead of potential attackers.
The welcome address was delivered by Mr. Jay Bavisi, President & CEO, EC-Council, followed by the keynote delivered by Mr. Atul Bhatnagar, COO, National Skill Development Corporation. Mr. B.J. Srinath, Director-General, Computer Emergency Response Team - India, who joined the event from the capital, discussed the major initiatives the government has undertaken to mitigate cyber-attacks.
Other speakers included Mr. Ajit Pillai, Director of Sales at Checkpoint Software Technologies; Mr. Ashish Kumar, Cyber Security Practice Leader, Microsoft; and Mr. Ashish Chandra Mishra, CISO, TESCO HSC, among many others. Of great interest to the audience was the panel discussion "Clear threats and blurred boundaries with cyber intelligence" moderated by Mr. Burgess Cooper, Partner, Ernst & Young. The panelists who gave their expert opinion on the topic were Prof. Rajat Moona, Director-General, C-DAC, Mr. Rudra Murthy, CISO, Digital India, MHA and Mr. Vinayak Godse, Sr. Director, DSCI.
There was also an awards component as infosec leaders who have contributed to the development of the information security community and to their respective organisations were awarded by Mr. Bavisi. The recipients of the President's awards were – Dr. A.K. Mohapatra, Professor, Indira Gandhi Delhi Technical University; Mr. Pillai; Mr. Chandra Mishra; Mr. Ashish Kumar, Cyber Security Practice Leader, Microsoft; Mr. Atul Bhatnagar, COO, NSDC; Mr. Balaji Venketeshwar, Executive Director, PwC; Mr. Cooper, Mr. Felix Mohan, CEO, CISO Academy; Mr. Manish Tiwari, National (Information) Security Officer, Microsoft; Prof. Moona; Mr. Murthy; Mr. Godse; Mr. Vinayak Muzumdar, CIO, Deloitte Shared Services; and Mr. Vishal Salvi, Partner, PwC.
The CIO of the Year 2015 award was awarded to Mr. Prasanth Puliakottu, CIO, Sterlite Technologies. Tthe CISO of the Year 2015 was shared by Mr. Ashvin Parankusha, Director, GalaxE Solutions and Mr. Umesh Bhapkar, CISO, Tata Technologies. The CCISO of the Year 2015 was shared by Ms. Lopamudra Basu, AVP, SLK Global and Mr. Selvakumar Palanivel, ASEAN- S&RM Leader, IBM India.
EC-Council's commitment to the executive information security space is evident not only in putting on an incredibly informative line up of speakers and panel sessions during the conference, but also in the pre-conference training session. Prior to the conference, the first live training session in India of EC-Council's executive certification, the Certified Chief Information Security Officer, was held. Taught by Mr. Cooper, the C CISO candidates travelled from all over India and other countries to be a part of this training. Says one student, Mr. Suresh Nair, an Information Security & Compliance Manager at eHosting Datafort in Dubai, "I truly learned to see situations differently and I'm taking away a wealth of information. I'm walking away with so much excitement about looking at situations in my office differently, stepping outside the box, and working towards creating better solutions because of this class."
About EC-Council
The International Council of E-Commerce Consultants (EC-Council) is a member-based organization that certifies individuals in various e-business and security skills. EC Council is the owner and developer of the world-famous E-Council Certified Ethical Hacker (CEH), Computer Hacking Forensics Investigator (C|HFI), Certified Security Analyst (ECSA), License Penetration Tester (LPT) programs, and various others offered in over 60 countries around the globe. These certifications are recognized worldwide and have received endorsements from various government agencies including the US Federal Government via the Montgomery GI Bill, and the US Government National Security Agency (NSA) and the Committee on National Security Systems (CNSS) certifying EC-Council's Certified Ethical Hacking (CEH), Network Security Administrator (ENSA), Computer Hacking Forensics Investigator (CHFI), Disaster Recovery Professional (EDRP), Certified Security Analyst (E|CSA) and Licensed Penetration Tester (LPT) program for meeting the 4011, 4012, 4013A, 4014, 4015 and 4016 training standards for information security professionals and most recently EC-Council has received accreditation from the American National Standards Institute (ANSI). For more information about EC-Council, please visit http://www.eccouncil.org