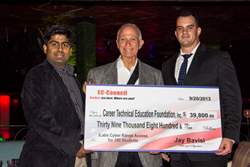 Bavisi brings a global perspective to the CISSE board with the launch of the EC-Council Foundation.
Albuquerque, NM (PRWEB) June 19, 2014
The Colloquium for Information Systems Security Education (CISSE), reputed as one of the largest information security gathering of academics, government, and industry professionals in the United States elected to its board Jay Bavisi, President and Co-Founder of EC-Council, the creator and owner of the groundbreaking Certified Ethical Hacker (CEH) certification.
CISSE's mission is to define current and emerging requirements for information assurance education and influencing and encourage the development and expansion of information assurance curricula, especially at the graduate and undergraduate levels.
Jay Bavisi was a natural fit as a Board Member for The Colloquium in their mission to define current and emerging requirements for information assurance education. Not only is Bavisi the co-founder and President of one of the largest certification bodies in the world, he is also widely credited for being the architect of the Global Cyberlympics competition that is supported by Dr. Hamadoun Toure,the Secretary General of the International Telecommunications Union, a United Nations Agency. Bavisi's other work at the EC-Council Foundation includes the announcement of a grant of $350,000 toward the wounded warrior program that aims to retrain wounded warriors to become cyber warriors. The Foundation will also provide over 100 schools in North America with the support to launch Cyber Security Awareness programs for children in K-12 programs titled Live.Learn.Secure.
Bavisi will take his place on the board alongside names such as Brenda Oldfield, formerly the Director of the National Cyber Security Division of the U.S. Department of Homeland Security, William Maconachy, PhD former deputy senior computer science authority at the National Security Agency (NSA) as well as Daniel P Shoemaker, PhD, Principal Investigator and Senior Research Scientist at UD Mercy's Center for Cyber Security and Intelligence Studies.
Bavisi brings a global perspective to the CISSE board with the launch of the EC-Council Foundation, a not-for-profit initiative conceived of by the founders of EC-Council to raise awareness, build capacity across nations, and ultimately promote global peace.
Bavisi's rise to the Board of Directors comes after a tremendously successful association between Bavisi and CISSE. At last year's CISSE conference, Bavisi was selected as the opening keynote and presented a very well received talk comparing the information security industry to the pharmaceutical industry, drawing some interesting conclusions. He was also the recipient of the prestigious CISSE 2013 Industry Leadership Award, which recognizes outstanding leadership in industry relations with information assurance education.
Founded in 1996, the Colloquium has become the leading proponent for implementing courses of instruction in information security education and provides a forum for academia, government and industry experts to discuss and form needed direction in information security undergraduate and graduate curricula, common requirements, specific knowledge, skills and abilities, certification requirements and establishment of professional certification boards.
About EC-Council
The International Council of E-Commerce Consultants (EC-Council) is a member-based organization that certifies individuals in various e-business and security skills. EC Council is the owner and developer of the world-famous E-Council Certified Ethical Hacker (CEH), Computer Hacking Forensics Investigator (C|HFI), Certified Security Analyst (ECSA), License Penetration Tester (LPT) programs, and various others offered in over 60 countries around the globe. These certifications are recognized worldwide and have received endorsements from various government agencies including the US Federal Government via the Montgomery GI Bill, and the US Government National Security Agency (NSA) and the Committee on National Security Systems (CNSS) certifying EC-Council's Certified Ethical Hacking (CEH), Network Security Administrator (ENSA), Computer Hacking Forensics Investigator (CHFI), Disaster Recovery Professional (EDRP), Certified Security Analyst (E|CSA) and Licensed Penetration Tester (LPT) program for meeting the 4011, 4012, 4013A, 4014, 4015 and 4016 training standards for information security professionals and most recently EC-Council has received accreditation from the American National standards Institute (ANSI).
For more information about EC-Council, please visit http://www.eccouncil.org.