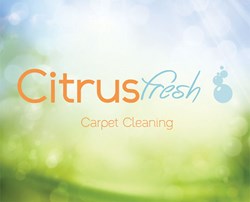 They have to be one of the best carpet cleaning services in Atlanta!
Atlanta, Ga (PRWEB) February 04, 2014
It's that time of year again! The Kudzu users in the Atlanta Metro area have spoken and have chosen their "Best of 2013" local businesses. CitrusFresh Carpet Cleaning of The Atlanta Metro Area has been voted by Kudzu's users as one of their local favorites, making CitrusFresh a recipient of the award, which is based on high scores they received through customer reviews. Several of the customer reviews spoke very highly of the local carpet cleaning company, mentioning the top-notch level of customer service they received, the more natural citrus-based solution that they use, and the high quality of work performed.
Please see what these happy CitrusFresh Carpet Cleaning customers had to say:
"I wanted to go with a carpet cleaner that used natural products and that was considered to be safe, but to be honest, I was unsure about the ability of a natural carpet cleaner to take care of my very stained carpets. After reading the reviews and talking to the owner on the phone, I decided to give them a try, and I am so glad that I did. The products is natural and safe but took every stain right out of the carpet! Also, as promised, the carpets only took a couple hours to dry."
"The carpets were pretty bad, thanks to the wonderful job our kids had done destroying it! I was shocked with all of the stains that came out and really enjoyed the customer service provided by not only the lady that I spoke to when scheduling the job, but also the young man that came to the house to actually clean the carpets. All in all, we were very happy and will be using again in the future."
"After all of the rain that we have had this year in Atlanta, our carpets were looking pretty miserable. Recently, our dog became ill, which caused our carpets to look even worse. My husband and I thought that at this point we would have to suck it up and pay to have the carpets replaced. After receiving several quotes, all of which were 1k, we decided to try having them cleaned instead. We used this company and are so glad we didn't pay to have the carpets replaced. The natural carpet cleaner they use was an added benefit as well, we hate using any chemicals if we don't have to. Our carpets are completely stain free and look the way they did when we moved in! They have to be one of the best carpet cleaning services in Atlanta!"
CitrusFresh provides residential and commercial carpet cleaning in the Atlanta Metro Area along with upholstery cleaning and Oriental & Area Rug Cleaning. CitrusFresh Carpet Cleaning is also unique in the fact that they can access spaces in high-rises, townhomes, condos, apartments or other areas above the second floor. Most traditional truckmount systems make it impossible for most steam cleaners to be able to access any space above the second or third story. They also specialize in the removal of pet stains & odors, a common issue in the homes of pet owners. Service areas include most of the Atlanta Metro area including:
Johns Creek, Ga
Duluth, Ga
Lawrenceville, Ga
Alpharetta, Ga
Roswell, Ga
Snellville, Ga
Suwanee, Ga