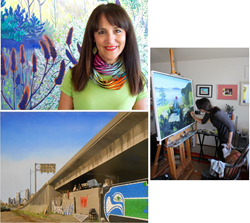 It is not only the honor that touches my heart, but the fact that the people in Seattle felt that my painting was the best of Artwalk 2013. I am humbled and honored to receive such a prestigious award. - Patri O'Connor
Seattle, WA (PRWEB) October 10, 2013
Seattle Artist Patri O'Connor took top honors at this year's City Arts Awards, garnering her a first place award and a 1,250.00 dollar cash prize. Business owners in the community nominate a painting to be featured as a finalist for this prestigious award, and it was Diane Venti, Owner of Alki Arts Gallery, that nominated Patri's painting "Skate Park." Patri not only secured the last spot as a finalist, but went on to win the "People's Choice Award" and first honors. "It is not only the honor that touches my heart, but the fact that the people in Seattle felt that my painting was the best of Artwalk 2013," exclaimed Patri O'Connor. "I am humbled and honored to receive such a prestigious award."
Patri's paintings, though representational, are not realistic in the sense of being faithful to the subject. They are infused with a dreamlike quality that is similar to reality to but not necessarily true, a dimension that is more vivid and brilliant than the realm we inhabit. They are abstract, yet pay attention to detail and texture. "I paint my surroundings with just a touch of unreality in order to confront the viewer with that magic that seems to leave us in adulthood but is ever present in children. One could say my paintings are backdrops to whatever the viewer can imagine," stated Ms. O'Connor. Each painting has contrasts, whether it involves a juxtaposition of lights and darks, textural differences or the visual effect of contrasting reality and expressionism within one canvas. Her muse, aside from visual imagery, is the intangible realm of music. Her process is candid. She shows up and the canvas dictates where it wants to go.
About Patri O'Connor
Growing up in a family of globe trotters exposed Patri to a variety of cultural experiences that spanned three continents. Her earliest memories are of Gothic churches and beaches in Spain. The diversity of landscape and culture ranging from the deserts of New Mexico to the jungles of Venezuela and Paraguay, the cultural cornucopia of Mexico, the amazing landscapes of Chile, to the seemingly tame suburban environs of Detroit, Michigan shaped and inspired her visual aesthetic. Currently, she is living in and painting the dramatic landscapes of Seattle and finds Alki to be a strong influence as well as her husband Oscar Morel, and her three lovely children.