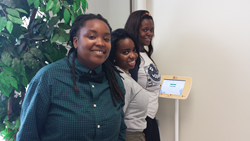 Using the latest digital technologies, Apploi expands opportunities for Baltimore job seekers to easily identify and successfully apply for job openings
Baltimore, MD (PRWEB) October 22, 2014
The City of Baltimore, through the Mayor's Office of Employment Development and the Enoch Pratt Free Library, is partnering in a pilot project with the innovative job search and candidate capture technology company, Apploi, by installing Apploi's job kiosks in the Central Library and two workforce centers. Job seekers across the city will also be able to connect with jobs, and benefit from Apploi's training and advice offerings, through their own mobile and desktop devices.
The official launch of the partnership will take place on the evening of October 22nd, with a special event for job seekers at the beautiful Enoch Pratt Free Library, 400 Cathedral Street, from 5:00-7:30pm. Ahead of that launch, Apploi held events on the 20th, 21st, and 22nd of October across the city to expand awareness about the new opportunity.
Apploi was recognized in July by the White House as "an American Innovator" for its transformative work, and has been working with local officials, employers, community groups, and strategic partners across the nation on initiatives. The Baltimore City launch coincides with the launch in Baltimore of Apploi's #Million4Christmas campaign – an Apploi #JobConnect initiative -- which is focused on connecting 1 million job seekers with jobs by Christmas.
"Using the latest digital technologies, Apploi expands opportunities for Baltimore job seekers to easily identify and successfully apply for job openings," said Mayor's Office of Employment Development Director Karen Sitnick. "We are motivated to provide the best in new job search and preparation tools to improve linking our local workforce to sustainable employment."
"The Enoch Pratt Free Library is dedicated in helping our customers in their job search. From free resources and services to one on one career guidance, we are here to help," - Carla D. Hayden, CEO, Enoch Pratt Free Library
Apploi CEO, Adam Lewis, shares, "We are very excited to be working with the MOED and Library officials, who show a great passion for helping every job seeker in Baltimore, and bring our #Million4Christmas campaign – where Apploi representatives have been traveling around the country, connecting job seekers to local jobs -- to the great state of Maryland."
Daniel Freedman, CSO of Apploi, adds "From our very first meeting we clicked with the officials here in Baltimore – because Apploi is solving a problem that those who work with the unemployed battle every day: How can someone with holes or little on their resume be seen as more than that limited resume? How can they be given a chance to shine? Apploi offers that opportunity – with both job seekers and employers benefiting."
At the evening event on the 22nd at the Enoch Pratt Free Library, job seekers will hear from a panel of experts, including city officials, local companies, and national heads of talent for companies, and be able to ask questions and learn about how to benefit from the Apploi network.
Representatives of local companies, as well as national companies will be present to speak to jobseekers. Ahead of the big event, Apploi held #JobConnect events – where Apploi team members offered guidance to job seekers -- around the city, including at the library and workforce centers. Up to date information is available at: http://www.apploi.com/baltimore/
Apploi's kiosks are installed at companies, as well as at public libraries, community centers, shopping malls, workforce centers, and other public locations. This Baltimore City initiative is the first partnership between Apploi and a City Hall.
The Baltimore City public kiosk locations will be:
Enoch Pratt Free Library
400 Cathedral Street
Baltimore, Maryland 21201
Eastside One-Stop Career Center
3001 E. Madison Street
Baltimore MD 21205
The following kiosk is open only to school's students:
Career Academy
101 W. 24th Street
Baltimore MD 21218
For press inquiries, for MOED, please contact Brice Freeman, bfreeman(at)oedworks(dot)com, and for the Library, Roswell Encina, at rencina(at)prattlibrary(dot)org and for Apploi, Daniel Freedman, at press(at)apploi(dot)com or call 212- 273-9694 or visit apploi.com . Employers wishing to participate can email employers(at)apploi(dot)com