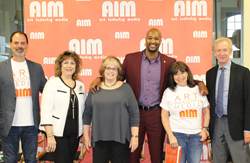 PEEKSKILL, N.Y. (PRWEB) April 22, 2019
On Saturday, April 13, the City of Peekskill participated in an economic development panel as part of Hudson Valley Gateway Chamber of Commerce's (HVGCC) 2019 Art Industry Media (AIM) Weekend. City Manager Richard Leins shared his thoughts on the local/regional business landscape at the morning event.
George Oros, HVGCC's Economic Development Consultant, moderated the panel, which also featured Bridget Gibbons, Westchester County's Director of Economic Development; Deb Milone, President of HVGCC; Bruce Kauderer, Vice Chairman of Croton on Hudson Planning Board and Chair of the Village's Waterfront Advisory Board; and Michael Preziosi, Director of Technical Services for the Town of Cortlandt.
The group discussed topics including locating and expanding business, economic incentives and grant possibilities. They broke down current zoning and land use, as well as how each municipality is adapting to meet the new space requirements of today's evolving business activities.
"Over the last several years, the City of Peekskill has experienced unprecedented interest from those seeking to call the City home or relocate business here," stated Leins. "The City has spent significant time and energy putting its fiscal and infrastructure house in order to welcome those just discovering Peekskill, and can now boast an unparalleled Hudson River waterfront, a downtown arts and music scene, and restaurant destination second to none. With an expanding commercial base and a residential boom offering a range of housing options, Peekskill is open to the excitement and opportunity that awaits and invites all to check out the City and its exciting live-work-play environment."
The panel acknowledged the appeal of the Hudson Valley to businesses looking to relocate/expand, including the region's educated workforce, economic bargain (i.e., twice the space of New York City at half the cost), proximity to NYC by rail, as well as the active lifestyle and culture of the HVGCC service area. For further incentive, the Industrial Development Agencies in Westchester County and the City of Peekskill provide tax exemptions and the Empire State Development Corporation offers grants and loans for business relocating, expanding or starting up.
"The region's economic development strategy is evolving to embrace the new technology and changing business model," said Oros. "To attract new startups and entice companies to locate here, there is a focus on the lifestyle the area provides: parks, recreation and culture abound. It's a matter of getting that word out. There is no doubt that the recent growth in small and medium businesses locating to the HVGCC area will continue to surge. This is the area for your business because you can take advantage of a terrific educated workforce, affordable rents and living costs, as well as the recreation, culture and sense of belonging that this area offers."
2019 AIM Weekend saw Peekskill transformed into an exciting multi-sensory experience, showcasing the Hudson Valley's emergence as a hub for the new generation of multimedia. Exciting program events included an interactive robotics demonstration, painting poetry, a career fair, and a special event featuring acclaimed filmmaker Paul Schrader. For additional information, visit http://www.artindustrymedia.com.
About the City of Peekskill
The City of Peekskill is a thriving, historic community located on the banks of the Hudson River. Just under one hour north of New York City, Peekskill is culturally and economically vibrant with abundant natural resources due to its location on the river and at the gateway to the Hudson Highlands. The City's pedestrian-friendly downtown is buzzing with an array of dining and entertainment establishments. Offering artist lofts, studios, galleries and museums, Peekskill is home to a growing arts community and has no shortage of arts activities. The waterfront, with over three miles of continuous parkland, is a regional destination with a variety of active and passive recreation, as well as breathtaking views of the Hudson River. For more information, visit http://www.cityofpeekskill.com.