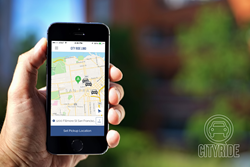 Simple booking, tracking and paying for car service rides.
Burlingame, CA (PRWEB) March 03, 2015
CityRide is pleased to announce the launch of its new transportation app, available for both online and mobile uses. This unique app brings high-end, "limousine quality" transportation services to all clients through a variety of features and functions.
CityRide takes app technology to a new level with an easy-to-use interface and user-friendly instructions that make getting from point A to point B simpler than ever. From CityRide's professionally trained chauffeurs to their selection of quality vehicles, customers receive an experience that goes above and beyond average transportation services.
CityRide offers not only a "Ride Now" feature, but also includes a "Ride Later" option, allowing clients to plan for their transportation needs in advance -- a convenient way for passengers to book rides for upcoming trips.
"Whether you're in a rush and need an instant ride, or you're planning your ride in a week's time, our app's easy booking process works just as well," said a company spokesperson. "We have had several positive reviews about the app's accessibility and features which put the control of booking a ride into the passenger's hands."
With CityRide, users can select their price before they book with no surcharge or hidden fees. Users can also track their chauffeur on CityRide's map to view proximity and arrival time of their ride. Clients can choose a Meet & Greet option at baggage claim or Curbside Pickup from the airport.
CityRide offers several vehicle options in order to cater to a wide range of clients, such as:

Hybrid & Electric
Taxis
Towncars & other sedans
SUVs
Luxury Makes (Including Tesla and BMW)
At CityRide, employees understand the value of building personal relationships with their clients. The company handpicks their chauffeurs after a thorough background check and application process, including face-to-face interviews, to determine if the candidate is the right fit for their company. Each vehicle is personally inspected to ensure the safety and satisfaction of all drivers and passengers.
The app is available for download on iTunes and Google Play. For more information, please visit their website CityRideLimo.com.