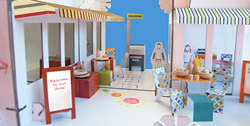 New York, NY (PRWEB) March 20, 2014
Eco-friendly craft toy company, Urban Canvas, introduces City Stories, a new modular build-and-play set that provides kids with an engaging play experience. With the set, Children can tap into their creative and entrepreneurial spirit to plan and build a store of their dreams with an elaborate street setting around it.
The set comes complete with furniture, tableware and street fixtures so children can immerse themselves in role play while they hone their spatial thinking skills. In addition, kids can use their artistic ability to draw decorative details and design their own store signage on the set's crayon erasable surface. Children can erase what they don't want as easily as the set can be rebuilt into any storefront configuration or street scene.
City Stories is available in three different sets. Children can build a store front and a sidewalk cafe with Sunrise Cafe or Bluesky Bistro. The large set, City Stories Deluxe, contains enough pieces to build two stores and an elaborate street scene.
About Urban Canvas:
Urban Canvas is committed to preserving the environment and developing arts and crafts toys that stimulate artistic growth in children. Urban Canvas toys are three-dimensional sculptural canvases for children to build, decorate, play and display. Urban Canvas promotes recycling, reducing landfill waste and increasing the overall health of the planet for our children.