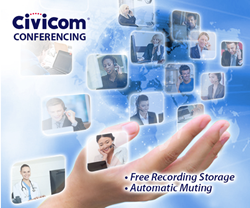 Free recording storage and automatic muting are both always available to Civicom clients who sign up for a self-directed dial-in conferencing account.
Greenwich, CT (PRWEB) April 08, 2015
Amidst recent corporate consolidations in the audio conferencing business, Civicom is being noticed for an established reputation as a reliable and trusted partner. Companies have now discovered that Civicom Conferencing, a global leader in self-directed dial-in reservationless conferencing, as well as operator-assisted event conferencing and webinar services, includes free recording storage and automatic muting as part of their features package. These capabilities are emerging as highly valuable, important features that require inclusion from audio conferencing providers. Civicom has always recognized the importance of these particular offerings, and is seamlessly supporting clients that have an immediate need for these capabilities, and more.
The benefits of automatic muting to parties on dial-in reservationless conferences are critical to a successful conferencing experience when there is a speaker or group of presenters.
The Civicom conferencing system can accommodate an unlimited number of individual parties who need to enter an audio conference on broadcast mode, with their lines automatically muted. An added feature is that the conference host can give instructions that allow individuals to unmute a line through a simple key press if someone is needed to speak, further enhancing the system's flexibility.
A key feature of the Civicom Conferencing system is its six-digit, passcode capability. All parties can be given the same easy-to-remember passcode to dial into a conference, simplifying the communication process to set up and run a call.
Any conference can be automatically recorded. Recording storage is completely complimentary. Recordings are easily accessible through an online account for a minimum of six weeks, and during this time can be downloaded to a hard drive at any time with the click of a button. Recordings are also automatically saved to the Civicom archive, at no additional cost.
With Civicom's feature-rich, proprietary audio conferencing system, requests for transcripts of any recording can be done automatically. Transcripts can be delivered within multiple timeframes ranging from 4 hours to five days. Transcripts are both emailed and stored in a client's Civicom online account for access at any time.
Civicom provides the same high quality service, free recording storage, and automatic muting capability through its subsidiary, ConferTel.
Civicom stands apart because the company built and manages its own audio bridge, resulting in extreme control over Civicom's ability to manage client requests and respond to client needs. This is further enhanced through Civicom's live customer service 24/7, with real, trained people answering the phones and providing support.
The Civicom Conferencing system offers an abundance of valuable features — many offered only by Civicom — delivered with perfect reliability, clarity and customer care excellence. Unique features include enhanced security and hands-free convenience. Advanced technologies enable all this at a low price so clients get the best possible value. Branded lines that let callers hear your unique name when they dial in are also available.
Civicom serves many of the world's top 100 and 500 largest corporations with advanced communications solutions, and is able to do so at a competitive value due to a next-generation SIP technology platform that was the first implementation of its kind in the U.S.
To learn more about Free Recording Storage and Automatic Muting, as well as Civicom's other enhanced features, or to sign up for an account, email Civicom® at inquire(at)civi(dot)com or call +1-203-618-1811.