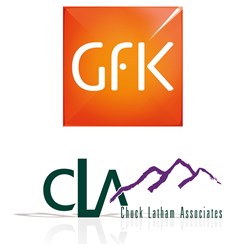 The GfK partnership will help us to provide even deeper directional analysis for our retail customers and manufacturing clients.
Parker, CO (PRWEB) August 08, 2013
Chuck Latham Associates and GfK today announced a partnership which will enable both to deliver greater sales insights across the Pet Specialty Channel. The companies' mutual goal is to further data and information visibility and sharing across the Pet class of trade to better illuminate consumers' pet purchases. This deep POS information will provide benchmarks and identify opportunities which will further pet retailers' and manufacturers' operations, marketing and category management initiatives.
"There has long been a paucity of item, category and market level sales data in the pet channel," said Michael Johnson, Chuck Latham Associates' Vice President of Marketing & Information. "Working with GfK allows us more robust information than ever before and will enable us to understand key sales metrics and trends across entire categories. The GfK partnership will help us to provide even deeper directional analysis for our retail customers and manufacturing clients."
GfK, a global leader in market research, provide manufacturers, retailers and distributors product performance metrics and market shares within the channel. Using sample point-of-sale data from across the United States, GfK sales information accurately reflects marketplace trends. "This partnership will help the channel with an unbiased view of marketplace performance that supports fact-based marketing and merchandising decisions," says Neil Portnoy Deputy Managing Director at GfK. "The ultimate goal is to drive profitability for CLA and their customers and clients."
About Chuck Latham Associates, Inc.
Chuck Latham Associates, Inc. (CLA) is the premier sales and marketing agency in the Pet, Vet, and Farm Ag classes of trade. CLA specializes in helping manufacturers bring pet products to market through a complete service package including: retailer navigation and wiring, headquarter sales, retail operations and assisted selling/brand advocacy, advanced analytics & marketing mix monitoring, pet channel consulting & onboarding, as well as extensive consumer and channel research. CLA was founded in 1984 and today has over 1000 associates across the U.S. and in Canada.
To find out more, visit http://www.clareps.com or follow CLA on Twitter: https://twitter.com/clapetreps
About GfK
GfK is one of the world's largest research companies, with around 13,000 experts working to discover new insights into the way people live, think and shop in over 100 markets every day. GfK is constantly innovating and using the latest technologies and the smartest methodologies to give its clients the clearest understanding of the most important people in the world: their customers. In 2012, GfK's sales amounted to €1.51 billion.
To find out more, visit http://www.gfk.com/ or follow GfK on Twitter: https://twitter.com/GfK_en