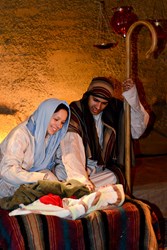 Be transported back to First Century Jerusalem at the 13th Annual Living Nativity at Granite Creek Community Church in Claremont.
Claremont, CA (PRWEB) December 10, 2013
Visit the 13th Annual Living Nativity the weekend of December 13-15, 2013 at Granite Creek Community Church. The event takes place on the grounds of the Claremont church at 1580 N. Claremont Blvd. in Claremont from 6 to 9 PM.
The 13th Annual Living Nativity Drama
The dramatic reenactment of Christ's birth draws thousands to Granite Creek Community Church over the weekend. The 10-scene drama recreates pivotal moments surrounding the birth of Jesus Christ, from the Angel Gabriel's pronouncement to Mary of Jesus' birth, to Caesar Augustus' devious census declaration, to the ecstatic singing of the heavenly hosts at Jesus' birth.
Elaborate set decorations, a life-sized manger, live actors & animals, Roman soldiers patrolling on horseback and a Persian Princess promise to transport you back to first century Jerusalem. Event admission is free.
Christmas Boutique and Food Trucks from 5:00 PM until 9:00 PM
Visit the Christmas Boutique, which features hand-crafted & unique gift items, including jewelry, bags, Christmas wreaths & ornaments, spa soaps and bath items, fun hats, scarves, baked goods, baby items and more. Featured food trucks will also be available. The food truck schedule is as follows:
Friday 12/13/2013
Meet N Potatoes Truck
Saturday 12/14/2013
George's Greek Food Truck
Tornado Potato Food Truck
Sunday 12/15/2013
Chili Philosopher Food Truck
Serendoggity Food Truck
Handicapped Accessible
The Living Nativity is a walk-through tour on level ground. Guests with mobility disabilities wishing to remain in their vehicles are asked to clearly display their Handicapped Placard and arrive no later than 8:30 p.m. Trained service animals are welcomed, but must remain on a leash/harness at all times.
About Granite Creek Community Church
Granite Creek Community Church (GCCC) is a mid-sized church in Claremont, CA, with around 300 adults attending Sunday services. We are not a mega church but we think big.
As every family is unique, every church family is unique. What makes Granite Creek distinctive is our values of strengthening families; affirmation of education; creativity; ethnic, economic and age diversity; and strong network of support for families with special needs.
Our Sunday Services are at 9:30 and 11 AM. Our sermons are available on our website and in the iTunes store.
Granite Creek Community Church
1580 N. Claremont Blvd.
Claremont, CA 91711