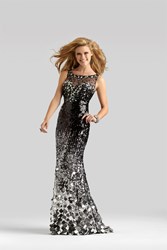 Clarisse will be further promoting their new Couture collection by providing a number of pieces as prizes for contests hosted by Seventeen Magazine.
Philadelphia, Pa (PRWEB) November 09, 2013
Women's social occasion fashion label Clarisse announced today that given an overwhelmingly positive initial reaction from their U.S. retailers and already greater than anticipated sales figures their 2014 Clarisse Couture collection will be classified as a successful product line and will become a permanent addition to their future spring/summer collections.
Founded in 2009 with a focus on prom and homecoming dresses, Clarisse Inc. has grown steadily over the years and expanded their product lines to include pageant dresses as well as Clarisse Classic, a youthful cocktail line designed for women in their early twenties. The addition of the Clarisse Couture collection represents not only a further expansion of the Clarisse label but a step up in design, and construction costs for a brand that has traditionally geared itself towards being among the most competitively priced of boutique labels.
"We wanted to start conservatively, given that these styles would be retailing at higher prices than many of our past collections," explained Daniel Adrian, CEO of Clarisse Inc, in regards to the couture collections modest initial offering of 14 pieces. "However we made sure that we carried over one of the core concepts of the Clarisse brand, offering unique designs and high quality materials at the best possible prices, when we launched Clarisse Couture and the response we've gotten shows that the concept works at every price level. Retailers and their customers have been very happy with the quality and prices and we've already gotten great feedback from some of the women and young ladies who've worn these gowns."
Mr. Adrian went on to explain that while designed as a compliment to their most popular spring collection, the Clarisse prom line, Clarisse Couture is also geared toward pageants and other formal events, and as such has already seen a large number of sales to women who will be wearing their Clarisse Couture gowns to formal holiday events. Clarisse will be further promoting their new Couture collection by providing a number of pieces as prizes for contests hosted by Seventeen Magazine and spring sweepstakes hosted through the brand's Facebook page.
When asked if Clarisse was planning on expanding into other areas of social occasion fashion Mr. Adrian declined to confirm anything specific but did say that "Our commitment to quality construction and fashion forward design has appeal to women of every age, so there is no reason not to continue to expand our label."
The Clarisse label is carried in hundreds of boutiques nationwide as well as dozens of international retailers. The new Clarisse Couture collection is available in sizes 0 through 20 and begins retailing at $398.00 with the most expensive pieces selling for around $598.00.
Clarisse Inc. is a manufacturer of evening dresses, cocktail and prom dresses located in Philadelphia, PA.