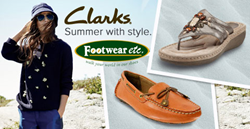 Clarks is a brand our customers have been coming back to for years and years. The new Spring styles look great and right away they are selling well.
Sunnyvale, CA (PRWEB) April 24, 2014
Footwear etc. is delighted to announce the arrival of new Spring 2014 Clarks shoes and sandals to their 10 Califorina stores and their online store http://www.footwearetc.com. These models include casual and dressy sandals, driving shoes, flip flops, and slip-on shoes for men and women. Customers are expected to respond very favorably to these stylish and comfortable shoes, as they have with each collection in the past.
Clarks shoes have proven to be comfortable and durable as well as fashion-forward. Each of the Clarks collections specializes in certain style and technical features, such as: the Originals highlight crepe outsoles and cross-generational appeal. The Unstructured collection contains a unique Air Circulation system to help keep feet cool and comfortable, and these shoes also excel in flexibility. The Artisan collection specializes in dressier shoes for fancier occasions while providing great shock absorption, cushioning, and air circulation. The Wave collection features a curved sole that helps your foot roll smoothly as you walk. For casual, wedge sandals, the Elements collection provides outstanding cushioning and a sueded OrthoLite footbed. Lastly, the Springers collection contains an air cushion in the heel that makes it function like an accordion, with outstanding shock absorption.
New models include: for women - the Clarks Jaina, which is a gladiator-inspired sandal available in blue or tan leather; the Clarks Wave Outing, which is a sporty and rugged sandal with adjustable hook and loop straps that is available in bark or black nubuck; and the Clarks Amelia, which is a dressy wedge sandal with a decorative pattern on the wedge and an adjustable buckle ankle strap. This shoe is available in black, white, or beige leather. For men – the Clarks Wave Tour is a rugged sandal with hook and loop closures that is available in Olive nubuck; the Clarks Norwin Easy, which is a casual slip-on with elastic goring and is available in Olive or Navy canvas; and the Clarks Farli Walk, which is a classic lace-up oxford that you could wear for any occasion. The Farli is available in Black or Grey leather.
Sales Manager Andrew Monarch adds, "Clarks is a brand our customers have been coming back to for years and years. The new Spring styles look great and right away they are selling well."
All of the models of Clarks Shoes are available in Footwear etc.'s retail stores as well as online at footwearetc.com.
About Footwear etc.:
Footwear etc. is a well-established, family-owned business, headquartered in Silicon Valley, CA since 1986. The company is committed to improving customers' quality of life by offering brand name products that demonstrate their belief in the need for healthful, comfortable and fashionable footwear. Footwear etc. operates ten retail stores located throughout the Bay Area and San Diego, and also offers their products on their website and catalog. To find out more, please visit http://www.footwearetc.com.