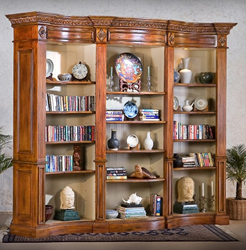 A good old fashioned bookshelf will have some embellishments, like crown molding at the top edge, panels on the sides or bottom, or even arched openings over the top shelf.
(PRWEB) January 16, 2014
HomeThangs.com – the Online Home Improvement Store has made their goal to deliver the right product to the consumer. With that in mind, shopping and home design tips, as well as special product selections are being introduced.
There's no better way to warm up a room than with a bookshelf. Putting books out in the open is one of the best ways to display taste, and adds a warm, cozy quality to just about any room – especially when placed on an old fashioned bookshelf. HomeThangs.com has introduced a guide to a few traditional features that make for a look that's more inviting than the average modern bookshelf.
Woodwork
The easiest way to get a bookshelf with a more traditional feel is to look for ones that have a little bit of woodwork. Modern bookshelves are made of all simple, straight lines and 90 degree angles, which is efficient but not particularly homey. A good old fashioned bookshelf will have some embellishments, like crown molding on the top edge, panels on the sides or bottom, or even arched openings over the top shelf. These can be simple or more elaborate, but give the shelves that sturdy, furniture-like quality that makes them feel more permanent, even if they aren't actually built in.
Paint
Similarly, the finish on a bookshelf can go a long way. Many modern bookshelves are made with simple lacquered or laminate finishes in a handful of generic colors. More traditional shelves with finishes have a little more texture and character to them – whether it's a natural wood grain or a lightly weathered paint.
Unevenly Spaced Shelves
Many modern bookshelves use asymmetrical cubbies that vary in size and shape to turn a generic bookshelf into a more artistic installation. There are traditional bookshelves that use this technique, too, to create a more rustic, homey quality. Different sized shelves encourage the incorporation of different decor items in addition to books, like small statues, or more practical items like mixing bowls or a mail tray. Adding a little alternative storage, like small drawers or shelves, make this type of bookshelf a unique furniture hybrid that works well in unusual spaces, like entryways, dining rooms, or even the kitchen.
Cabinets
Simply adding a cabinet or two at the bottom of a bookshelf can totally transform its appearance. Many built-in bookshelves are designed this way, combing open shelves from the waist up with convenient, concealed cabinet storage down below. Standalone bookshelves sometimes copy this design, which gives them the look of custom cabinetry and slightly brings in the walls, making the room they're in feel cozier.
Other Storage
Bookshelves can actually have an impressive variety of different types of storage above and beyond the obvious traditional shelves. These little unexpected differences are what give old fashioned bookshelves their charm, especially where the different storage options mean unique and interesting woodwork. Bookshelves that incorporate unexpected items – like a wine rack – tend to have a much more personalized look and are more interesting to look at.
Ladders
There's nothing in the world more charming than a bookshelf with a library style ladder. Of course, these aren't ideal for every home, and the bookshelf needs to be quite large to really justify it. But a simple wood ladder is that one traditional, old fashioned touch that will really give a space that cozy, inviting, old-world library feel. Plus, this type of ladder typically folds flat against the bookshelf so it won't get in the way, and on a very tall bookshelf it can make it easier to find a favorite book.
To see more of these beautiful, old fashioned bookshelves, check out the full article here.
HomeThangs.com is not only a home improvement superstore, it also provides expert design tips and a comprehensive shopping guide, taking the ideas from professional interior designers, and offering tips to the consumers on how to pick the products to best suit their needs.